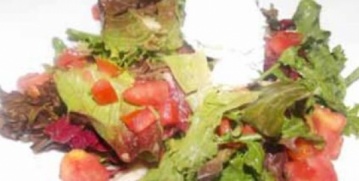 A Magnificent Gourmet Tradition Continues Unabated
5999 North Federal Highway • (Tel) 561-994-3495 • Lunch and Dinner
In the Pantheon of Boca Raton restaurants, few have had a more luminous history than Renzo's of Boca. Who better to carry on this illustrious tradition than Chef Angelo Romano of the legendary Paradiso restaurant in Lake Worth and the versatile Marco Turano who supervises and synchronizes the operations at the front end?
At Renzo's, a covered patio serves as the focal point for two dining rooms. The one on the left contains a well provisioned bar and a grand piano used for nightly entertainment. The other houses the gracious receptionist. Both rooms are paradigms of elegance. The refined Mediterranean interiors are filled with murals, paintings and crystal chandeliers – a setting perfect for sumptuous dining.
First to arrive is the alluring Alici Marinate ($16) with its enchanting arrangement of white anchovies and roasted red peppers encircling a blossoming marinated artichoke whose leaves resemble petals of a rose.
The Polpette di Vitello ($7) is a glorious celebration of sensational ground veal, incomparable ricotta made from sheep's milk, a luxurious red sauce and fresh basil.
Il Sogno ($13) is a showstopper with its dreamy blend of baby greens, string beans, roasted red peppers and olives tossed in a sublime vinaigrette and energized with a dollop of fragrant goat cheese.
There is no doubt that a fine wine enhances any meal at Renzo's and considering the fabulous trove of wine from the main regions of Italy, the options open to you are phenomenal. Where else can you find a stellar assortment of varietals from the Piedmont, Veneto, Abruzzi, Emilia Romana, Tuscany, Sicily and more? Twenty vintages are available by the glass. In addition, the full service bar can satisfy any request.
A regal dish by any standards, the Pasta alla Nonna ($15/$25) achieves stardom with luscious cuts of fresh eggplant and creamy mozzarella tossed with al dente penne bathed with a singularly exquisite pomodoro sauce.
The Scaloppine di Vitello Sorentino ($28) is an impressive main marked by glorious flavors and textures, and graced with faultless seasoning. It is a seductive creation of tender veal, ethereal wafers of eggplant and vibrant prosciutto. This harmonious trio gets an extra lift from satiny mozzarella and a bounty of savory tomatoes. The sweetness of the combo works brilliantly with a lively mix of broccoli, carrots and seasoned potatoes.
This sparkling feast was followed by a totally scrumptious wedge of the in-house crafted Tiramisu. Throughout, the adroit staff delivered impeccable service even during the most hectic moments. For unparalleled catering, consider the offerings at Renzo's. To learn more about Renzo's of Boca, log on to http:// renzosofbocaitalianrestaurant.com/