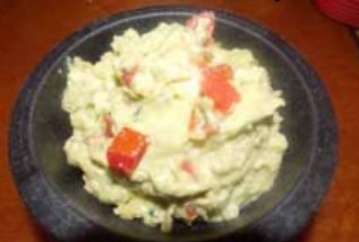 The premises occupied in central Boca Raton by Baja Cantina has been the site of many Mexican eateries. Over the past several years, I have dined in most of them and the current occupant is by far the best. Often, when I mention my Mexican favorites, the response is usually in terms of burritos and tacos, as if Mexican fare is a commodity. Market forces may have created that illusion, but when you go to Baja Cantina you will have an epiphany because you will discover truly superlative Mexican cuisine.
Manager Michael Sellitto maintains a finely tuned kitchen staffed with multifaceted chefs who understand the interplay of textures and flavors. Every ounce that arrives at your table overflows with superb nuances and is created with a flair. Service is equally outstanding.
The decor is charmingly eclectic with dozens of graphics and artifacts reflecting themes from south of the border. Comfortable booths and neatly arrange rows of tables take up most of the space except for a well provisioned bar. When the weather allows, al fresco dining is available on the enclosed patio.
The opening basket of crunchy chips and vibrant salsa deliver exciting bolts of flavor in each bite. You can actually taste the distinctive character of each ingredient rather than the amorphous blandness of the ready made.
The subtle touches and creaminess of the Guacamole ($3.99/$7.99) are poignant reminders that the humble avocado can achieve greatness in the hands of a master. Pair it with the homemade Sangria ($6.99/glass) –it works perfectly with every course. The bar offers one hundred five tequilas and a vast array of signature drinks. (There are two Happy Hours: Mon-Fri, 4 to 7 pm and daily, 9pm until close - both offer 2 for 1 specials) The impeccably crafted Guacamole Garden Salad ($10.99), crowned with a scoop of delectable guacamole, resonates with touches of grated Parmesan sprinkled over mixed greens and wedges of avocado. The Caesar dressing with Parmesan is sensational.
Pollo Fajitas ($13.99) is simultaneously rich and thrilling with its sweet and tender caramelized vegetables tossed with grilled chicken in a to-die-for salsa based sauce. Mahi ($17.99) prepared with a dazzling Tequila-lime arrives over a bed of sautéed vegetables infused with the same sauce. Both mains include savory rice and beans An electrifying Chocolate Lava Cake partnered with vanilla ice cream and whipped cream provided a triumphant ending to our stupendous Mexican feast. Daily specials are available throughout the week A series of six lunches (priced at $8 or more) posted on Baja Cantina's Lunch Club card will earn you a free $15 lunch. Takeout and catering services (on or off site) are available upon request. For more information log on to www. bajacantinaboca.com.
201 Northwest First Avenue • (Tel) 561-419-8118 • Lunch and Dinner