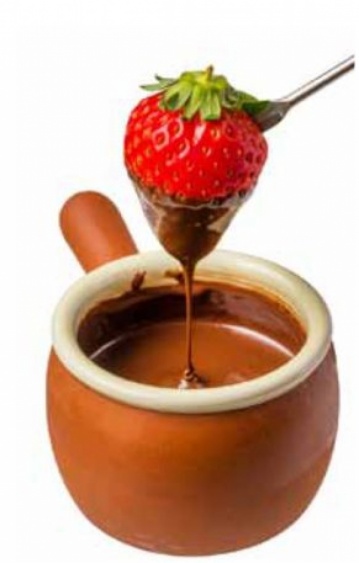 This HEALTHY TREAT is absolutely delicious served with fresh organic fruit or right off the spoon.
No refrigeration is necessary and it can be whipped up in just 5 MINUTES!!
It contains two of my favorite SUPERFOODS, RAW CACAO AND COCONUT OIL... Both chock full of Antioxidants and great for the skin!
Makes 2 Servings.
INGREDIENTS:
Simply Stir together until smooth:

- 1/4 cup raw powdered Cacao

- 1/4 cup agave nectar ( or 5 drops liquid Stevia )

- 1 teaspoon ( no alcohol ) vanilla extract

- 2 tablespoons organic coconut oil
PREPARATION:
Set coconut oil in a hot bath of water by setting jar in a bowl of hot water to bring it to a clear liquid before stirring all ingredients together.
The Chocolate fondue is ready to serve immediately or can be kept on the counter for up to a month if stored in a glass sealed jar.