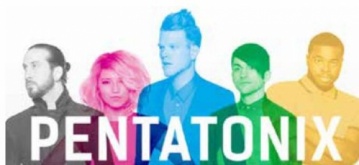 A Cappella Group
I have been to a lot of concerts over the years & my son was begging me to go to see a group he loves to watch on YouTube. He is a preteen with an old soul that appreciates a good performance. He has been to many Operas with his dad, but this time I thought it would be good to see a younger group with him. Knowing how much he loves singing & dancing I surprised him and took him to see the PENTATONIX World Tour 2016 at the BB& Center in Sunrise. I figured the concert would be all for him, but I also thought that the time spent together would be a good bonding moment for us.
When the concert first started I turned to my son Ryan and disappointedly said "This is not A Cappella… they have Background music!" thinking it was coming from a sound track.
Ryan quickly set me straight and defended them by strongly stating "They are making the background sounds themselves without instruments!" I was in disbelief until I really looked and listened and finally realized that the awesome combination of deep and steady vocal basslines, diverse range of vocal percussion, and mix of beatboxing & "drum" beat (stomping feet) was all coming from these 5 talented artists, the PENTATONIX (also sometimes known as PTX).
This colorful & artful group really put on a great show. They have a soulful mix of existing songs and original music. The way they arrange each song is unlikely anything I have ever heard. It is a feast for the ears. There is a reason they have already won two Grammys in a row for A Cappella in 2015 & 2016. I would highly recommend this dynamic show to people of all ages. After all, we did bond, not just by being together, but by experiencing an awe-inspiring show together that we both thoroughly enjoyed. I surprised my son and the PENTATONIX surprised me and inspired us all!