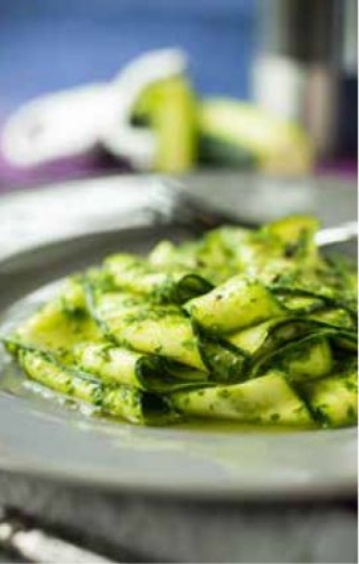 ...no FANCY tools necessary to make this pretty dish
RAW VEGAN DISH Serves 4
To make the Zucchini Ribbons: Wash two zucchini well and place in a medium sized mixing bowl.
Using a potato peeler, make long length-wise strokes across the whole zucchini to create ribbon-like slices. Continue using both zucchini. Set aside To make the Pesto Sauce:
In a blender combine:
• 1/2 cup chopped parsley

• 1/2 cup chopped basil
• 1/4 cup soaked pine nuts (cover and soak in water x one hour and drain and rinse prior to use)
• 1 1/2 Tablespoons olive oil
• 1 Tablespoonlemon juice

• 1 teaspoon minced garlic
• 1/2 teaspoonsea salt
ADD THE PESTO TO ZUCCHINI RIBBONS & TOSS Enjoy this lovely Spring Dish...
Light & Refreshing