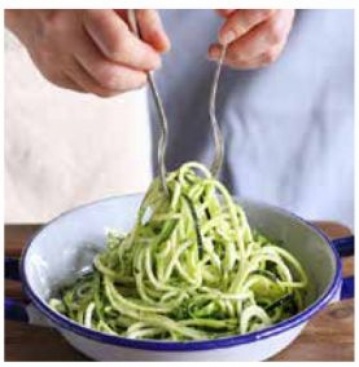 RAW VEGAN DISH - Serves 4
HEALTHY FAST-FOOD MADE EASY * Start by letting kids get their hands dirty in the kitchen.
* Pureed Fruits / Vegetables (AKA Babyfood) is a time saver to be utilized.
* Begin with foods you know your child already likes then put a HEALTHY SPIN on them!
If your child loves pasta try this addition:
ADD ONE SMALL JAR OF PUREED CARROTS, SQUASH OR PUMPKIN TO HIS OR HER FAVORITE PASTA SAUCE then add to cooked pasta.
This small addition is a nice dose of VIT C, BETA-CAROTENE & LOTS OF FIBER. MAKE HEALTHIER PASTA TRY SPIRALING a PEELED ZUCCHINI and blanche in hot water for one minute (this creates a softer pasta-like texture).
Toss with pasta or pesto sauce of choice Sauces are a great way to incorporate foods your children may otherwise not try.
Another saucy spin can be to add 1/2 ripe avocado to any dipping sauce or salad dressing… just 15 seconds in the blender (AVOCADO's are neutral in flavor and do a nice job thickening the dip or dressing's texture and they add loads of VITAMINS AND MINERALS AND HEALTHY FATS FOR A HEALTHY HEART).