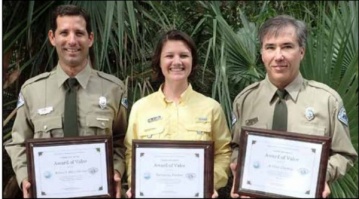 (North Palm Beach, FL) At the Florida State Park's 2015 Division Award Winners meeting last week, Park Services Specialist, Art Carton, Ranger Rob Matriscino, and Director of Education, Veronica Frehm received the prestigious Award of Valor. They received the award for selflessly risking their lives to save two drowning visitors caught in a rip current at MacArthur Beach State Park last spring.
"We are extremely proud of and grateful for our award winners," says Cheryl Houghtelin, Executive Director of the Friends of MacArthur Beach State Park. "Thanks to the skills and quick thinking of our MacBeach heroes, the two visitors were brought safely back to shore."
Also at the 2015 Division Award Winners meeting Park Services Specialist Lu Dodson was presented with the Joe Kenner Award for Interpreter of the Year. As Park Services Specialist, Dodson is responsible for the interpretation and operation of the Nature Center, is the volunteer coordinator, oversees animal care and helps with the Natural Science Education program, teaching more than 50 students daily in the Park's "outdoor classroom."
Lu's hard work and dedication to the Park Service was not only recog nized at the meeting last week, but she recently received a promotion to Assistant Park Manager at Bill Baggs Cape Florida State Park. "We will miss Lu and her amazing work ethic, but we are happy for her and know she will make a great Assistant Park Manager," says Houghtelin.
John D. MacArthur Beach State Park, Palm Beach County's only state park, is situated on a barrier island between the Atlantic Ocean and the Lake Worth Lagoon. The Park is made up of 438 acres of pristine coastal land and contains four different communities or habitats including seven species of plants and 22 species of animals on the endangered or threatened list. MacArthur Beach is truly an "Island in Time!!