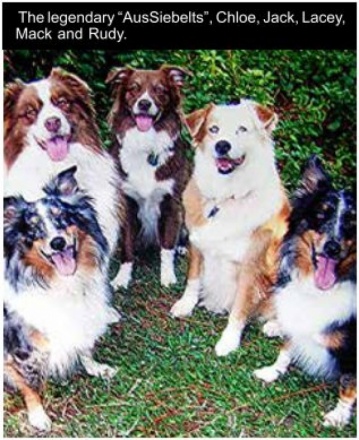 The distinctive scent of sweet jasmine wafted on the gentle breeze as we made our way around the park. I vividly remember a walk. In the park two large trees staked their claim on a small hill. Their branches entwined above, creating a magical tunnel. I have always thought of it as a wishing place. Bob had taken the other three dogs earlier, so I was enjoying a special walk with Mack and Jack. I had them sit between the two trees, and took a picture. It felt like yesterday. Mack was the love of my life, with his Buddha-like presence, Jack is our clown. Near the bridge, under the banyan trees, we relaxed, entertained by ducks, and serenaded by songbirds. Time drifted, like the gentle ripples in the lake. We sauntered home, surprised that two hours had passed. Mack went to the rainbow bridge in 2012; not a day goes by that I don't feel his calming presence. Jack is approaching 13 years old, still a clown.
Rudy, our first Aussie, a gorgeous blue merle, had a special walk. We ventured on a different route, encountering a large group of teepees arranged in a circle. There were many dads and Indian princesses. Rudy and I watched their festivities, at a respectful distance. Suddenly, one girl yelled, "Look, a wolf!" I looked behind us, nothing. Several of the girls approached with their dads and asked to pet "the wolf". I didn't have the heart to tell them he was an Australian Shepherd. He soaked up all the admiration, love and petting, and then we were merrily on our way.
Being a Saturday morning, the five Aussies and I ventured to the park. We enjoyed observing nature and visiting with friends (two and four-legged). Down the path behind a row of houses, a white lamb darted across the walkway. I let Rudy and Lacey off lead, knowing they would be gentle and herd it towards me. The Bichon Frise was dirty and frightened. Seven of us trekked home. After bathing and feeding her, I reported a found dog and posted signs. Lambchop was obviously allowed on the furniture and in bed. Her special skill was a high jump to the barstool to sample whatever we were serving. Three days passed, then I received a call that Lovie had been missing. The owner had been out of town and the pet sitter never said anything. I returned her, declining the large monetary reward.
Numerous times Bob has called and said, "She's on her way", meaning Chloe had gotten spooked by a bike bell or loud noise at the park, and bolted for home. She excelled at jerking the lead from your hands or backing out of her collar. She knew her way home very well, and always looked both ways before crossing the street. Many times I would grab my car keys, still in my PJs, and intercept her as she entered the development.
Dru aka Mouse can always be found staring up a tree at the park. Her special job is Squirrel Patrol. Her mahogany coat blends so well with tree bark, I have walked right by her. She sits like a stone statue, stalking her prey.
What memories are you making with your dog? It's not necessary to dress them up and parade them at an event. They just want to spend time with you, in nature, fresh air and getting exercise - good for everyone. Get back to basics with at least one daily walk, without your phone, free from distractions. Create those loving memories that will sustain you, long after your dogs are "walking on the other side".
---
Dog World with TinA
Tina Valant-Siebelts is a confirmed dog-o-holic, mom to many rescued pets, who volunteers with numerous organizations. To "fill all those dog bowls," Tina is an award-winning photographer, writer & event coordinator. www.HaveDog.com