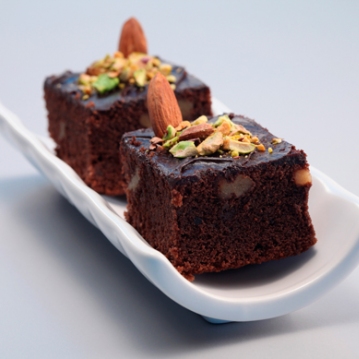 "CHEWY" FLOURLESS PROTEIN BROWNIES
VEGAN 4 INGREDIENTS
- 3 Medium extra ripe bananas
- 1/2 cup smooth almond butter (may substitute with any other nut/seed butter)

- 3 Tablespoons cocoa or cacao powder

- 1 1/2 Scoops protein powder (chocolate my personal favorite) (Avoid using whey protein, it creates gummy brownies and is a dairy product).
INSTRUCTIONS:
1 Preheat oven to 350 degrees, grease a small cake or loaf pan with coconut oil & set aside
2 Heat nut butter in pan on low heat until melted

3 In a blender or with your hands (combine all of the ingredients bananas can stay chunky)

4 Pour the mixture into the greased pan and bake 15-20 minutes...let it cool before slicing.
ENJOY, AND REMEMBER TO REFRIGERATE ANY LEFTOVER BROWNIES!

These dark, rich (subtly sweet) fudgy protein brownie bars are high in protein (check your protein powder container for that) and rich in antioxidants (if using cacao). They are great on the go snacks your kids will love and could help keep you healthy this HOLIDAY SEASON!
5 Benefits of Cacao:
- High source of iron (highest plantbased source of iron)

- A natural mood elevator and antidepressant
- More calcium than cow´s milk
- 40 times the anti-oxidants of blueberries
- Full of magnesium for a healthy brain & heart
HAPPY & HEALTHY THANKSGIVING
Caron Barr is a Holistic Healthcare Coach who has worked in Palm Beach County for over 20 years. Caron is a Registered Nurse who became interested in natural medicine after several years of hospital work and eventually feeling the extreme signs of stress (adrenal exhaustion). While HEALING herself she studied Alternative Medicine at Everglades University in Boca Raton, FL. It was there that she learned the tools to share her newfound passion. This lead her to a leading job at Hippocrates Health Institute where she worked with hundreds of guests helping them heal their bodies through plant-based nutrition and relaxation techniques. She is well versed in the diversity of people and health challenges South Florida brings.
Personalized Medicine is now in the forefront of healthcare. An individualized approach tailored to each of her client´s needs is a necessity in her work. Last year Caron founded Healing Housecalls, which brings her services into clients´ homes and offices.