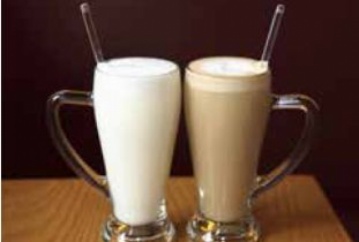 There is nothing quite like ending your day with a WARM, spicy
ALMOND CHAI LATTE
By Caron Barr / caronb123@gmail.com / (561) 346-4577
ALMOND MILK • CINNAMON GINGER • NUTMEG • CARDOMON warmed to ULTIMATE PERFECTION
Originating in Eastern India, chai tea has been used for generations to calm the mind and create balance within the energy bodies. Together these spices create an anti-inflammatory effect, having special effects on the tissues and joints. Other HEALTHY medicinal properties include protection of the heart and cardiovascular system evidenced by lower blood pressure and cholesterol levels. Some major claims even include cancer prevention and reduced infection rates.
ALMOND CHAI LATTE
5 Ingredients
5 minutes
*Combine all ingredients in small saucepan*
- 2 cups almond milk
- 1 teaspoon cinnamon
- 1/4 teaspoon nutmeg
- 1/4 teaspoon powdered ginger
- 1/4 teaspoon cardamom
*Heat over medium heat approximately 2 minutes to desired temperature and serve immediately*
ENJOY this VEGAN, CAFFEINEFREE treat!
This is the time of year when days are full of holiday cheer, family, food and fun. When you are in need of some down time, make yourself some CREAMY, soul-soothing LOVE IN A CUP.
---
Caron Barr is a Holistic Healthcare Coach who has worked in Palm Beach County for over 20 years. Caron is a Registered Nurse who became interested in natural medicine after several years of hospital work and eventually feeling the extreme signs of stress (adrenal exhaustion). While HEALING herself she studied Alternative Medicine at Everglades University in Boca Raton, FL. It was there that she learned the tools to share her newfound passion. This lead her to a leading job at Hippocrates Health Institute where she worked with hundreds of guests helping them heal their bodies through plant-based nutrition and relaxation techniques. She is well versed in the diversity of people and health challenges South Florida brings.
Personalized Medicine is now in the forefront of healthcare. An individualized approach tailored to each of her client´s needs is a necessity in her work. Last year Caron founded Healing Housecalls, which brings her services into clients´ homes and offices.