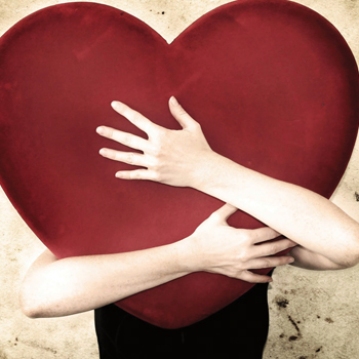 Do you remember the anthemic song "Greatest Love of All", made famous by Whitney Houston? I always thought this song was rather hokey and overblown, but I do agree with its main point: Learning to Love Yourself is the Greatest Love of All. Learning to love yourself is a key factor in having a happy, reasonably functional life, and being able to have good relationships with other people too.
As Alan Cohen says in his article this month, "All healthy relationships are founded in self-love. If you don't love your self, it is going to be difficult to love others or receive their love."
Valentine's Day is often thought of as a celebration of romantic love between partners. But you can celebrate it any way you want! Here are 10 ways to celebrate Valentine's Day by increasing your love for yourself:
1. Play and listen to music that you really like. Going to see live music in person is the best, but listening to recorded music you like is great too!
2. Eat foods you like AND foods that are good for you. Find foods that fit BOTH categories. Whatever you choose to eat, enjoy it and feel good about it while you are eating it, before and after too. As Michio Kushi is reported to have said, "It is better to eat a hamburger with a good attitude, than a bowl of brown rice with a bad attitude."
3. Regularly do some kind of exercise or movement you actually enjoy - dance, swim, walk, play on swings. Run after a puppy or a little kid for inspiration and motivation, or find a walking partner to walk with several times a week. Even once a week is better than no movement at all. Don't think of it as something you "should" do, think of it as something that will help you feel healthy, alive and happy - because it will!
4. Pick an hour, a day, a weekend and disconnect from social media, TV and internet. Remember how great it feels after a hurricane when the electricity is out and everything is so quiet and peaceful? You can give yourself the gift of peace and quiet away from the constant press of media any time you want - you don't have to wait for a natural disaster.
5. Read something you're really interested in - an article, a book, a comic book, a magazine, poetry - anything that really sparks your interest!
6. Give yourself the gift of time with family and loved ones.
7. Give yourself the gift of time alone. 8. Ask for help if/when you need it, AND let people help you.
9. Help others when you can do so freely, with no expectations or strings attached. Help them because it feels good to help others, from the heart, and not because you want something in return.
10. Set healthy boundaries for yourself and with others, and learn how to say NO - and YES.
Practice one, a few, or all of these, and I'll bet you'll start to feel more feelings of love, happiness and self-esteem very soon! Happy Valentine's Day!
Did You Know?
"Greatest Love of All" was written by Linda Diane Creed (1948 -1986) a.k.a. Linda Epstein, a singer-songwriter and lyricist who worked with songwriter-producer Thom Bell, and some of the most successful Philadelphia soul groups of the 1970s, including the Stylistics and the Spinners, as well as writing songs for Dusty Springfield and Phyllis Hyman. Her songs were hits for many other artists including Dionne Warwick, Prince, Teddy Pendergrass, Roberta Flack, Michael Jackson and Johnny Mathis among many others.
Some of her biggest hits were "You Are Everything", "Betcha by Golly, Wow", "Break Up to Make Up", "You Make Me Feel Brand New," "I'm Stone in Love with You" and "The Rubberband Man".
While Creed was famous and successful in her professional life, she had a personal life too, and was known as a generous and nurturing person. She loved her two daughters, was available to help and support her family and friends, and was considered instrumental in helping Teddy Pendergrass recover after his devastating 1982 accident.
Diagnosed with breast cancer at 26, Creed kept working, teaming with composer Michael Masser to write the lyrics to "Greatest Love of All", the main theme of "The Greatest", a 1977 documentary about Muhammad Ali. Though most people now know the song from Houston's recording, it was originally recorded by George Benson.
A decade later, Creed passed away at age 37, just weeks before Houston's recording of her song reached #1. The following year, Creed's family and friends established the Linda Creed Breast Cancer Foundation, providing Philadelphia women access to mammograms and diagnostic tests, and honoring and preserving the memory of a special, talented woman. www. lindacreed.org