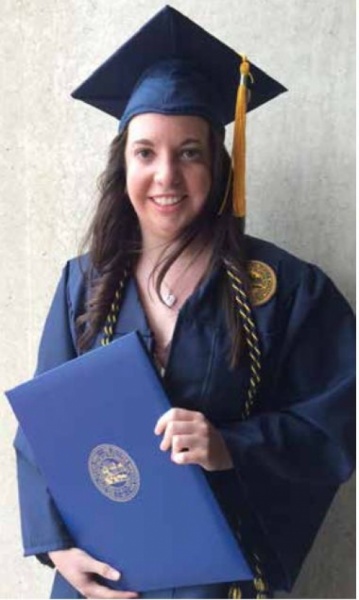 Student Receives Cochlear scholarship
Associate, Health & Wellness • Communications Strategy Group • @CSG_health
Caroline was born with hearing loss in both ears caused by Treacher-Collins syndrome. After using a hearing aid for many years, it was no longer enough. In 2011, Caroline received the Baha System, a bone conduction implant that helps her hear more clearly - and excel heads and shoulders above her peers.
Thanks in part to her new hearing solution, Caroline made the Dean's list every semester at West Virginia University, joined the rowing team, studied abroad and had an active social life. While in college, Caroline studied Communication Sciences and Disorders, holding a 3.8 overall GPA throughout her undergraduate career. After graduating from WVU, Caroline knew she wanted a future in audiology and was accepted to Nova Southeastern University's doctor of audiology program.
Once Carline completes her doctoral degree, she plans to work as an audiologist in a hospital setting and is specifically interested in working at a military's veteran's hospital to work with the older population.
Capping off her accomplishments, has been awarded the 2017 Anders Tjellström Scholarship from Cochlear Americas for her success in her academic endeavors, in addition to the leadership and humanity she demonstrated in her community. Caroline was one of three in the entire country to receive this award due to her excellence and determination in spite of hearing loss.
"I have become a much more outgoing and confident person because of the Baha System. It has inspired and motivated me to strive for success," said Caroline Moran, a Baha System recipient and an Anders Tjellström Scholarship winner. "My success will be becoming an audiologist and helping others hear the world."