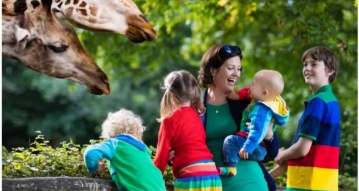 Almost a half century ago, my family drove down to Florida from Long Island, NY in my grandparents' Cadillac. We were here for winter vacation. Mom was Dad's copilot, doling out sandwiches and drinks, snacks and loving encouragement. We turned the trip into a pizza pie, each slice representing three hours. Eight slices of pie and we'd be in Florida. Hooray! The rule was, we weren't allowed to ask how much longer. At the three hour mark, we'd all celebrate by eating something sweet like Susie Q's or Turkish Taffy. My favorite was Bito-Honey and 100 Grand candy bars.
Memories can be wonderful.
They live in our hearts and enliven our lives. Yes, we have to choose which memories to enliven. I can just as easily recall upsetting times, but why? Why not bring to life the things that make us feel good? Hence this month at the Happy Herald, we share the joy of motherhood, of being a mother to our pets, and of the many motherhood experiences, especially the good feeling that comes from seeing, hearing or reading about mommies and babies.
Take a moment to reflect… to bring forward a memory with your Mom. Let the best of your recollections warm your heart. Give this gift to yourself, if you can, and enjoy the experience.
The image on the cover of this month's Happy Herald prompted me to remember the winter of '68 when we went to Lion Country and had a mighty up close view. Let me also admit, I was hysterical. As an eleven-year-old, I feared the lion would put his paw through the car, imagining every conceivable thing that could happen, and it was my Mom who took me in her arms, offering protection and solace. After what Safari. It's hailed as Florida's only drive-through safari and houses cageless animals including zebras, giraffes, lions and hundreds more. The day was quite outstanding for us because one very assertive lion decided to jump on the roof of my grandparents' car. And all he did was roar and roar and roar. I was looking up out the back window seemed an interminable time, one of the rangers drove up in his jeep about 200 feet away, hung a huge hunk of meat out his window and enticed the lion toward him. In my mother's arms, I began to breathe again, and felt the deep, deep power of love and the comfort of her protection.
A mother´s arms are made of tenderness and children sleep soundly in them.
- Victor Hugo
Sometimes the strength of motherhood is greater than natural laws.
- Barbara Kingsolver
A mother´s happiness is like a beacon, lighting up the future but reflected also on the past in the guise of fond memories.
- Honore de Balzac
As I write this article, my own daughter is visiting from San Francisco. She is 29 years old, and even when she is on the other side of the country, she lives in my heart. When she visits, I go out of my way to nestle her in my love, so when she gets on the plane to go home, her heart is filled with enough love to give her the confidence to soar. Maybe I am the wind beneath her wings… it sure feels good to think that!
Whether reflecting on your Mom, or being a Mom, or a Stepmom, or Mom to your pet, the mothering experience is something truly beyond words. Since May is National Pet Month, we also celebrate all those for whom their pets are their beloved children.
And on our cover, we have new mother April, the giraffe, who was watched by thousands of people for days and days on a webcam from the Animal Adventure Park in upstate New York while giving birth to her calf. The online audience eagerly contributed suggestions of names for the baby calf, and Tajiri (Taj for short), which means "hope" in Swahili, was chosen. Learn more at Theanimaladventurepark.com, and about April and her calf at aprilthegiraffe.com