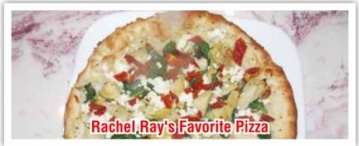 21747 State Road 7 • (Tel) 561-482-4008 • Lunch and dinner
A friendly staff and creative menu make this West Boca Rotelli immediately appealing. Located in the Target Plaza on State Road 7, the restaurant is enlivened by a vibrant floor to ceiling ceramic wall sporting an imaginative clock as well as the illumination from a striking sculptured white chandelier.
The gracious proprietor, Geoff Domergue, can be seen in the open kitchen at the rear of the dining room preparing the cuisine as well as managing the attentive staff which promptly arrived with an assortment of plain and garlic rolls. The aroma and quality of the fresh baked bread were so enticing that every last morsel was promptly devoured with gusto.
You can sense the care that goes into each signature creation. Bright and fresh flavors are the hallmark of the Pecan Encrusted Chicken Salad ($12.99). A stirring combination of candied pecans, mandarin oranges and aromatic gorgonzola are tossed together with a bounty of crisp greens. The mix is enlivened by a zesty balsamic and topped with cuts of a crisp encrusted filet.
Rachel Ray's Favorite Pizza ($10.99- $16.99) has become one of ours. The thin ethereal crust is anointed with a base of garlic and olive oil. More flavor is added with sun dried tomatoes, artichokes, spinach and an abundance of feta cheese. It might seem like a novel combination, but we relished the orchestrated fusion of flavors and textures.
The menu's repertoire offers a scrumptious selection of pasta, seafood, chicken and veal entrees. Lobster Ravioli ($16.99) is a must-have with its overstuffed pasta pockets filled with a silky blend of the crustacean, cheeses and spices. A swoop of delectable marinara bathed the entire ensemble.
Veal Marsala ($18.99) delivers a perfectly balanced selection of pristine ingredient endowed with a range of superb flavors. The glorious, aromatic Marsala sauce harmonizes perfectly with the sautéed mushrooms and the fork tender veal. The base of al dente pasta gets a delightful boost from all the ingredients residing above. Each entree comes with garlic rolls and a choice of soup or salad.
The rich and creamy Tiramisu provides a sublime conclusion and should be paired with one of the houses monumental cappuccinos or a superb hot tea from the unique tea collection. Everyday from 4 to 6 pm enjoy a Happy Hour Special featuring complementary soup or salad, fabulous rolls (plain or garlic), a non alcoholic beverage and dessert with a purchase of a dinner entrée. You will also receive half off beer and wine.
Take out, delivery and catering are available upon request. For more information, log on to /www.rotellipizzapasta.com.