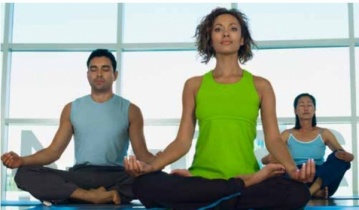 I remember twenty years ago being just fine with the hectic energy of youth. Full-time job, part-time school getting my Master's degree, daily training for a black belt, and of course, can't forget about going out and having fun. This worked just fine for a long time. The running from here to there, managing the time and people, keeping a handle on the hurricane in my head, it was all no problem. It was fun, having so much to do, being so important... until it wasn't.
Eventually I became very anxious with all the things I had to do and places I had to be. Eventually panic attacks would wake me up in the middle of the night. Eventually insomnia set in. And finally, my mind was simply driving me crazy.
"I love all that energy in my body and head! I don't need meditation."
Great. But when that changes, that is when you are ready for meditation. Except that in that state of mental, emotional, and physical turmoil, being still is the last thing you want to do. In fact, it is practically impossible when you feel like you are spinning all the time.
But assuming that you get yourself to where you can start a meditation practice, how does it work?
First and foremost, as backed by many studies, it calms the nervous system and brings the blood pressure down. In and of itself, this is price less.
When filled with anxiety or experiencing panic attacks, turning down the sympathetic nervous system is a pretty big deal and brings immediate relief on all levels.
Secondly, meditation brings the focus inward. While we are very well-skilled at observing others, we rarely turn that lens on ourselves. But during meditation we do exactly that. We get to see how the mind works, what our thoughts tell us, the mental loops, the mere junk that takes up so much space, etc. This awareness can be a seed for growth.
In meditation we become familiar with ourselves, but on a deeper level. We already know what kind of cars and clothes we like. But what kind of thinking goes on in the background without our knowing? And why is it that no matter which wish gets fulfilled, we eventually get bored again, ready to chase yet another thing, repeating over and over again, and yet still never quite being satisfied? Why is it that we fail to see, or ignore how we do the very same things we judge and hate others for? How do you change the thoughts? How do you change behaviors?
The answer is simple although hard to practice. The way is different (and the same) for everyone, but for sure you can't find it if you don't look for it. Neither is it out there, in cyber land. You have to ask yourself, and then you have to listen.
---
Larisa Klein • Wellness Achieved Studios • 3000 E Commercial Blvd., Ft. Lauderdale, Fl. 33308 • www.wellnessachieved.com • 954-600-9828
Larisa has been training in Yoga, Pilates, and functional weight training for 20 years since. 1997. She has extensive experience working with cancer survivors, people with various physical special conditions (joint/spinal injuries/operations/replacements/MS/etc.), internal special conditions (schizophrenia, drug/alcohol addictions) as well as triatheletes and Olympians. She is a black belt with full competition experience, a current practitioner of Kung Fu, and has an MA in Mathematics and a second BS in Alternative Medicine.