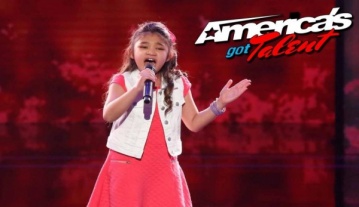 Angelica Hale is a rare talent and a survivor of an illness that almost claimed her life. The adorable 10-year-old girl, who's gained national attention on America's Got Talent, is aweinspiring. I've been watching recaps of her auditions and performances online for days. She is cute, has an amazing attitude and a heart of gold. Her backstory reads like a Chicken Soup for The Soul submission.
Angelica earned the coveted golden buzzer from AGT guest judge Chris Hardwick on July 18th after her breathtaking performance of Alicia Keys' "Girl on Fire". Angelica had the audience up on their feet and clapping along to the rhythm as she mesmerized them with her rendition of the hit. The Talking Dead host was obviously blown away by what he'd just heard, and the audience was chanting "golden buzzer, golden buzzer", so he had a ton of pressure on him from the crowd. Since all four of the regular judges Simon Cowell , Heidi Klum , Mel B. and Howie Mandel had already used their golden buzzers this sea son, it was up to Chris to use it and move Angelica directly to the live shows. "I'm so blown away because you walk out and you've got these sneakers on and you look like an adorable little child, and then you open your mouth and it's like how do those pipes fit in that tiny body?" he gushed while Angelica laughed. "Angelica … I feel like," he said with a long pause and cheers from the audience, "you are the chosen one!" then punched the golden buzzer. She burst into tears of joy and Chris ran up on stage to give her a great big hug and a high five. "See you in the live rounds Angelica!" he said as the audience roared with excitement.
Angelica Hale was born on July 31, 2007 in Atlanta, Georgia. She is a survivor and a rock star, not only on the stage but in real life as well. In 2012, when she was only four years old, Hale developed a fatal medical condition. She became very ill with a bacterial infection in her lungs that soon turned into double pneumonia, and she was fighting for life. Hale was put on ECMO life support at Children's Healthcare of Atlanta.
Her kidneys were severely damaged, and as a result, she had to undergo hemodialysis and later peritoneal dialysis for over a year. As Angelica struggled to survive, in need of a kidney transplant, it was discovered that her mother was a match. On Friday, September 13, 2013, Eva Hale donated a kidney to her daughter, and the then six-yearold got a new lease on life.
Her parents first noticed her talent when she began to sing along to popular songs in the car at two years of age. Lady Antebellum's "Need You Now" was one of her early favorites. A few months after Angelica recovered from her serious illness and returned home, her parents encouraged her to pursue her dream of becoming a singer and gave her singing lessons. It became clear almost immediately: singing was Angelica's calling, and using her exceptional talent to tell her story and inspire others was her purpose!
Before taking the America's Got Talent stage, Hale had already made a name for herself as a singer. She is deeply passionate about nonprofit organizations. She is performing all over North America to raise aware ness and funds for Children's Miracle Network hospitals, and even got the opportunity to sing the national anthem at the SunTrust Park stadium. During her AGT audition, the Atlanta native told the judges that she aspires to be the next Whitney Houston. She proved her superstar power as she literally moved the audience with her rich and compelling voice.
Angelica Hale is inspired by singers like Mariah Carey, Whitney Houston and Alicia Keys. When asked what she loves most about music, Hale said, "Music makes you get the groove on!" This young girl is a rising star whose destiny is to help others feel better in a multitude of different ways. Be sure to Google her online if you haven't already been introduced to this powerful bundle of adorable joy.
And remember, September is often the month of many opportunities ... so be on the lookout for your very own golden buzzer moment that catapults you to new heights, and then go ahead and make great things happen for you and those you love!