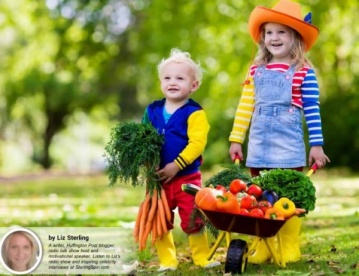 Sometimes I forget what season it is.
It's a momentary lapse in awareness, because we all know, Florida can feel like perpetual paradise. So when autumn and winter roll around, sometimes I knock myself on the head and say, "It's 39 degrees this morning in Michigan, Liz. It's getting cold up north." And then I remember the trees and their brilliant red and golden blend of the past and present. Wafts of fresh hot donuts, mulled apple cider and creamy pumpkin pie permeate my mind. Then I smell cranberry sauce, just the way my mom made, with a hint of orange peel, vanilla and cinnamon. That leads me to the Thanksgiving table and the sweet potato pie, chestnut stuffing and green bean casserole. That's right, I often go into the catalogue of memories related the foods that adorned the tables of my childhood and live, miraculously, in my mind. Salivating now, I can feel the holidays upon us and the remembrance of the best of times.
It is the harvest season, the time of year to focus on the plentiful bounty that graces our lives. And even if I forget for a moment what season we're in or what storm is reeking havoc up north, I always come back to the love I have for where I am. And then I pause to relish the unnamed momentum that moves us through these waters of life.
This month, as I write November's feature article,
I am experiencing fall, firsthand. The island of Nantucket is where I am today and have been for a few weeks. Crisp mornings, cool ocean breezes and island fare is the elixir of my joy and delight. It is peaceful and sleepy during these post-season weeks. The gray of the houses does not lend to the mood, because it is colorful this time of year. The sea grass is bursting with burnt sienna and the root vegetables are abundant. After I submit this article, I'll peruse some of my favorite web sites for a healthy pureed carrot and parsnip soup to make for lunch, and then a swift walk to the bakery to buy fresh Portuguese bread that was made just a few hours ago. I've learned to trade fresh for short expiration dates… a worthy investment for this appreciator of simplicity.
Many years ago, as a social worker with Vietnamese Amerasian children who were living in the American foster care system, I learned about other cultures and values and belief systems. I became curious about the art and dance and cuisine and religions of the world. I took classes in the humanities to explore the deeper roots of what feeds the fibers of a nation, of a tribe of a people of a country. I recognized that family is the heartbeat of humanity and sustains all life.
Sometimes, we have to leave our biological families or they leave us and as my Vietnamese children illustrated, we can be cared for by those who become family, those who have the longing to love and to connect. You see, the children I supervised were the offspring of the Vietnam War. Their fathers were American soldiers and mothers Vietnamese. They were stigmatized because they did not look right or fit in. Some very brave and selfless mothers would send their young children in a very small boat to Thailand, to be processed into holding camps that looked for blood relatives in America, or foster families to care for these precious children.
I was truly blessed to care for over a dozen eight to 17-year-old Amerasians when in my mid-twenties, to ensure they had the rewards of a good life in America. I fell in love with their hearts and faith and trust, and learned about their homeland and their food and the childhood games they played. I vowed, at that time, that one day I would go to see their homeland, and this Thanksgiving, I will share my meal with a family who live on an organic farm in Ho Chi Minh City, Vietnam. It won't be cranberry sauce and Tom Turkey this year… it will be the fulfillment of a long held dream… come true!
This month, what is most important for you?
Share your dreams with those you love and enliven what lives in your heart… speak out your hopes and wishes and then, watch, as the fruits of your intentions bloom.
Happy Thanksgiving! See you in December. Liz