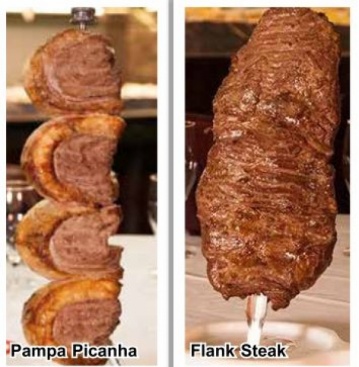 Everything served at Pampa Gaucho in Lighthouse Point is a delight - quality ingredients presented in an unpretentious professional way with a delightful Brazilian inspiration. The charming dining room is meticulously maintained with a full service bar at one end and a large buffet counter dominating the center. A striking mural depicting Brazilian gauchos reflects the heritage that underlies this charming steakhouse.
Rapid and timely service is an extremely important element in the operation of the dining room. The owner is constantly on hand to see that every detail is handled with precision. At no time are you wanting for attention.
The stating point for this culinary adventure is the fabulous buffet bar filled with dozens of immense platters overflowing with salads, cheeses, pristine vegetables and sautéed jumbo shrimp. A huge block ofimported Parmesan cheese, cuts of fresh mozzarella and the large crustaceans were my favorites. If you are not a carnivore, the buffet can be ordered separately and has enough variety to satisfy every craving, No Brazilian feast is complete without at least one Caipirinha made with fresh lime, sugar and the finest cachaca. It may sound simple, but the bartender at this restaurant made the best Caipirinha I have had in years. Pair one with the dreamy pao de queijo (cheese infused rolls) which Brazilians often have with their breakfast coffee, but I prefer to enjoy with a hefty Caipirinha. The full service bar also contains a stellar collection of imported and domestic wines as well as a list of superlative cocktails.
The main act is pure theater designed to make lunch or dinner entertaining as well as delicious.
Fernando and his staff move effortlessly and unobtrusively between tables carrying gigantic skewers of perfectly grilled meats. Each patron is give a paper disc with a green circle on one side and a red on the other. After finishing your buffet selections, a waitress brings a fresh plate and places it along side a set of miniature tongs. As a server approaches your table, he checks to see who has the green and then proceeds to slice the roast gently with a huge carving knife. As he cuts, you seize the slice of Picanha, leg of lamb or beef ribs with the tongs and port it to your plate. The dozen or so offerings of beef, lamb, chicken and sausage come around as long as the disc is green. The superior flavor and texture of every morsel of the grill are without equal.
Before you leave the table, your server will arrive with a dessert cart filled with glorious home made treats ranging from Brazilian Flan to Tres Leches. Fortunately, we had saved some space for the awesome flan.
Pampa Gaucho offers live music every Friday, Saturday and Sunday. The dining room will be open f o r Thanksgiving , Christmas, New Years Eve and New Year's Day. Make your reservations early. To learn more, visit www. pampagauchobsh.com
4490 North Federal Highway Tel:954-943-3595 Open daily