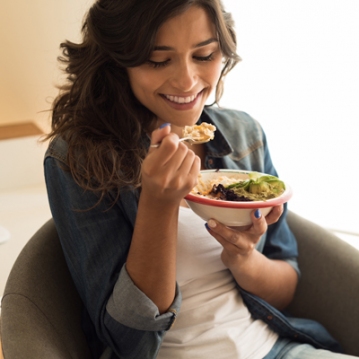 1. Watch documentaries and YouTube Channels to get the Why's of going vegan.
Netflix has many good ones such as: What The Health, Cowspiracy, Forks Over Knives, Food Choices, Rotten, and The Ghosts In Our Machine. I also recommend watching Earthlings, if you are willing to bear witness to something more graphic and ethics-driven.

For quick YouTube videos, check out: NutritionFacts.org, Bite Size Vegan, Beyond Carnism, Colleen Patrick Goudreau, and Erin Janus. Also look up 101 Reasons to Go Vegan (ARFF) and Farm to Fridge (Mercy for Animals)

2. Start by cooking the same dishes you make now, only swap out the animal-derived ingredients for plant-based alternatives. For those coming off a standard American diet, the plant-based meat and dairy alternatives will be key to getting away from animal-derived foods. As you experiment and expand your palate, your cravings will adapt, but these quick swaps will get your foot in the door right away and keep it easy. Note: In the long term, the processed foods will be treated more as a treat or a compliment to a nutrient-dense meal. Be kind to yourself. If you need to eat more processed food in the beginning, it's ok. This is about long-term success!
3. Bring a "vegan-swap-list" when you go grocery shopping. Get online and research plant-based brands such as Field Roast, Beyond Meat, Gardein, Tofurky, LightLife, Silk, Ripple, Hampton Creek, Miyoko's Kitchen and Follow Your Heart. These brands will satisfy all your typical meals. Even your local grocery stores like Publix, Target, Walmart and Whole Foods will stock many of them.
4. Check out vegan and plant-based websites, such as NutritionFacts.org, Veganuary.com, OneGreenPlanet.org, ForksOverKnives.com, HumaneFacts.org, FreeFromHarm.org, vegan.com and CompassionateFarming.org.
5. Download helpful vegan apps on your phone. Top apps for restaurants and food ingredients: Happy Cow, VeganXpress, and Is It Vegan? Top recipe apps: 21 Day Vegan KickStart, Forks Over Knives, Food Monster (One Green Planet), Finding Vegan, and Oh She Glows. To track your nutrition, download Daily Dozen.