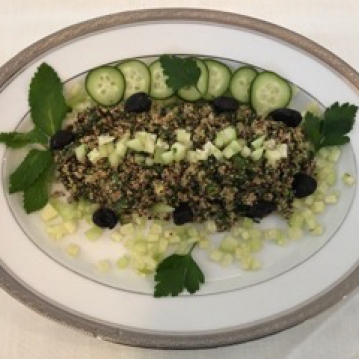 INGREDIENTS
2 cups quinoa, slightly undercooked
¼ cup Red onion, diced
2 tbsp. green onion, chopped
¼ cup red or yellow bell peppers, diced
1tbsp. oil cured black olives, chopped
½ cup english cucumber, diced
2 tbsp. cilantro, chopped.
PREPARATION
1. Soak quinoa overnight in pure water.
2. Discard soaking water and rinse well using a colander.
3. Slightly cook the quinoa (should be a bit chewy)

4. Set aside to cool off.

5. Chop and dice all vegetables and herbs.
6. Add the dressing and veggies to quinoa.
7. Mix well and serve.
Will last in the refrigerator for 2 days.
DRESSING

½ lime/lemon juiced 1clove garlic, pressed Bragg Liquid Aminos, to taste

1/8 tsp Indian curry spice Cayenne pepper, to taste 1 tsp. olive oil
---
Chef Olga Keller is committed to bringing great tasting living foods, plant-based nutrition to the masses. Learn more about Chef Olga at www.olgakeller.com.