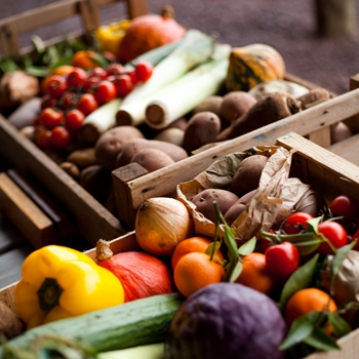 One of the common myths surrounding plant-based diets is that they are more costly than their meat-centric counterparts. If done properly, plant-based diets are affordable, easy and nutritionally sound. Here are some tips for the budget-conscious consumer on how to affordably fill your fridge and pantry with plant-based goodies.
1. Buy a wholesale membership like BJ's, Costco or Sam's Club.
Your nuts, seeds, legumes, grains, and frozen prepared foods are the most expensive in the retail food space. Find these items packaged in bulk for a lower by-volume cost. You can also find bulk quantities of veggie burgers, vegan meat alternatives like Gardein, protein powders like Vega and snack bars like Larabar.
2. Purchase the generic store brand over retail brands.
Nearly every grocery has an organic food line under their generic brand name. Trader Joe's, Aldi, Whole Foods 365, Publix Greenwise, Target's Simply Balanced, and others carry high quality products at significant savings.
3. Shop at Indian and Asian grocery stores.
You can find bulk spices, grains, legumes, teas and frozen items for excellent prices at these stores. There are tons of vegan options, but be sure to read the label!
4. Purchase produce at farmers´ markets.
Most farmers´ markets have a sale rack for fruits, veggies and day-old breads. Check the label on breads to make sure there are no eggs or milk. Many farm-stand breads are vegan.

5. Buy produce that is in season.
6. Don't shop when you are hungry.
This almost always leads to over-buying.

7. Only buy as much produce as you can use.
Plan on more frequent, smaller produce runs in order to avoid waste and throwing out rotten stuff. Tip: To help keep veggies fresh, put a paper towel in with the packaging to absorb excess moisture.

8. Avoid buying pre-sliced or prepped items like cut fruit or veggies.
The quality of produce is often inferior and it is much cheaper to cut them yourself.
9. Go online for deals!
• Visit discount health food sites for packaged goods. Some of the best are Vitacost.com, SwansonVitamins.com, ThriveMarket.com and of course, Amazon.com. If you go on RetailMeNot.com, you can usually get a promo code for any of these.
• Look for sale items from your favorite grocery online. For example, Publix often has great BOGO sales on Gardein.

• Print online coupons or save them to your phone. Do a search for coupons of brands you buy often and print off a sheet of them by taking a screenshot and pasting it in a word doc several times.
• Utilize store savings apps such as Target's Cartwheel.
Get ready to save!