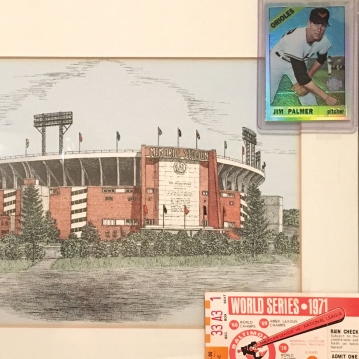 As a kid growing up in Baltimore, I was always reminded of how living in our town/state was a classic case of being a 'tweener. As in you live between the entertainment capital of the world, New York City, and the actual capital of the United States, Washington, D.C. In fact, anyone who's made that trip up or down Interstate 95, knows my hometown was the place where you traveled in a tube (the Harbor Tunnel) only to emerge and be greeted by some of the worst urban blight this side of Cleveland. It's not like that anymore (thankfully) as downtown renewal and modern commuting have now transformed Crabtown and its vicinity into a very desirable place to work and raise a family.
But what we may have lacked in stature we made up for in sports passion. Every Sunday afternoon in Fall, at 2 p.m. (that's right, Sunday blue laws prohibited the start of any games before then), Colts football – Baltimore Colts football – kept a city, state and region on edge to see how it would do versus the big bad guys from New York, Washington, Chicago and so on. Colts football dominated the town, so much that when Robert Irsay ripped the heart of the community out of its figurative chest that March night in 1984, a piece of civic history went with those Mayflower moving vans.
Yet, we still had baseball.

Still had the O's, who were so good for so long, many in town took them for granted. Don't believe me? Look it up. From 1961-1985, no one – and I mean no one – had a better collective record over that time. Six AL pennants, three world championships, and seven division titles over that time, plus a number of years when the team was very good, just not good enough to get to the playoffs.
April in Maryland is the classic springtime tease – you're sick of winter and the hint of summer is around the corner, but you endure the cold mornings, which eventually give way to warm afternoons. Opening Day meant something too, and I'm not just talking about getting out of school for one day (although that was pretty cool), as it brought a sense of promise, of hope that filled you to the brim. New year, new time, new team.
In 1975, I was fortunate to attend the home opener with my mom and dad. We hosted the hated Red Sox. I still remember the crowds, the smells and the sun-splashed green outfield at the stadium on 33rd Street; funny thing is, I thought we won that game, but a check of the almanac reveals a 6-5 loss in 12 innings. Goes to show you some things are more forgettable than others, I guess.
Which brings me to my current home team, our Miami Marlins. After another tumultuous off-season, complete with ownership change and a wholesale sell-off of its stars, there's little reason to hope for success. And you know what? I feel sorry for the generations of kids, parents and just plain baseball fans who have seen the value and promise of Opening Day downgraded to where we now think of it as just another Monday. Sad.
Yes, I'll probably watch – but I'll do so with a tip of the cap to a bygone era, one I'm glad to have seen, felt and watched, and one I hope everyone can experience.
Play ball!