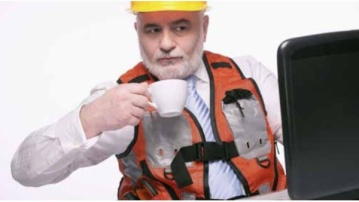 Someone recommends a contractor and tells you that he does good work. Naturally you think he would be a good person to do some renovations on your bathroom or kitchen. So, you call his phone number and he shows up in his expensive car and you start telling him what you want done. He seems very nice. There are some very good, honest and professional contractors who are properly licensed, but do not deal with a contractor who is not licensed - it is too risky.
Let's assume an unlicensed person gives you a list of items that he will repair. The list says he will remodel your bathroom and put in a new sink, shower and toilet, but it doesn't say what brands. It doesn't say what kind of material will be used. It doesn't say when the work will start and end, and he asks you for a down payment of 15 percent of the contract price. You are already in trouble although you may not know it. He demolishes your bathroom and removes your sink and toi let.
You don't hear from him for several weeks and when he begins work you are not satisfied with the fixtures, and the work he has performed is really bad. The workers' trucks have no company names on them, and the person you talked to will not return your phone calls. He is nowhere to be found. If you agreed to $50,000 to complete the job, you might find yourself having to pay twice that to fix what the contractor messed up.
What do you do now?
It's not all about hiring a nice person. It's about hiring someone who is going to do a nice job in a professional way. I always like to give everyone the benefit of the doubt, but when you hire someone to make renovations, you need a clear and unambiguous contract so that everyone knows exactly what to expect. Don't agree to verbal changes. I always like to include a clause in the contract that states that all changes must be agreed to in writing, and that this clause cannot be changed except in writing signed by both parties.
Florida law 520.73 requires the contractor to offer you a written contract signed by you and the contractor. The contract must comply with the terms of the statute. You will need his name, address and license number. The approximate date when the work is to begin and be completed. Remember to make sure that the description of the work to be done is in great detail and states what materials are to be used, brands, quality, colors etc. You might want to hire an architect just to look over the contract to make sure the work and materials are up to code and the work is performed properly before you pay the contractor. If financing is offered then there are even more considerations to take into account. The contract needs to state that the contractor has a policy of workers' compensation in effect, and you should ask to see evidence. If the contractor hires subcontractors they must be covered as well. It would be advisable to require that the contractor show you evidence of public liability insurance. If the contractor has a current policy that covers him for error and omissions, and if he does not have sufficient assets from which a judgment against him can be satisfied, the insurance company will make payment. It is hard to know from the beginning if the contractor has sufficient assets to satisfy a judgement against him. Once the horse is out of the barn it's too late to close the door. This is especially true if you are contracting with a corporation that has no assets. A judgment you obtain against the corporation is worthless. So, I would not recommend a corporation unless the builder agrees to guarantee performance, and agrees to satisfy the judgment in case the corporation cannot, and most importantly has included you as an insured on his errors and omissions policy.
Do not sign a contract unless it is totally filled in, and make sure you obtain a copy signed by the contractor. The work being performed may result in a lien on your home, and the lien could be foreclosed. That means the contractor can try to sell your house at auction to collect his bill. This is one of two exceptions to the rule that your home cannot be sold to satisfy a judgment. The contractor, on the other hand, may own a million-dollar home, but it is not an asset from which a judgment can be satisfied because Florida law does not allow the sale of a homestead to satisfy money judgments.
Hiring an attorney before you sign a contract will cost less than hiring one after the shoddy work is done, and if you have to sue the contractor you might win and then not be able to collect. Even if you do collect, the cost of litigation might be more than what you are entitled to recover. There are times when your costs and attorneys' fees can be recovered, but it is not so in every case.
What if the contractor asks you for money in advance? If you make an initial payment of 10 percent or more of the contract price, the contractor must apply for a permit within 30 days after the date of payment, unless a permit is not required for the type of work to be performed. Work must begin within 90 days after all permits are obtained. I recommend you not agree to an advance payment. The contractor has a right to file a lien on your property. This is assurance enough for not agreeing to pay money in advance of doing the work. It would be good to split up the payments in steps as each phase of the work is completed. The contractor is not paid unless that phase is completed properly, and I like the owner to have received more value than the payments made as the work progresses.
If you do agree to pay in advance, the contractor cannot without good reason refuse to perform work for any period longer than 90 days. Florida statute 489.126 says that it can be fraud if the contractor stops working for 60 days for no good reason, and after a notice to commence work is sent, the contractor must begin work within 30 days.
Notification must be a certified letter, return receipt requested, mailed to the contractor's address as shown on the construction contract. It must say that the contractor has, through no fault of the owner, failed to perform work for 60 days, that the owner has not terminated the contract, and demand that the contractor must continue with the work within 30 days of the date of the mailing of the notice. Any contractor who violates these provisions may be found guilty of theft subject to substantial fines.
The best way to avoid worry is to seek the advice of a lawyer before you sign any contract, especially a contract to renovate your home. An ounce of prevention is worth a pound of cure, and you will be sure to have a Happy Herald day.
---
Frank J. Morelli, Esq. (This column is not to be considered legal advice and you should contact an attorney for legal advice.)