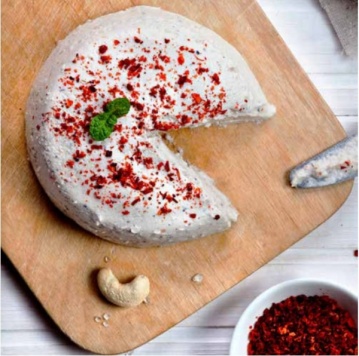 "But I could never give up cheese!"
As people are becoming increasingly more aware of the ethical implications of the dairy , industry - as well as the multiple health risks associated with consuming animal products, consumer demand has dramatically shifted towards plant-based alternatives. As a result, the plant-based cheese market has bloomed in diversity and availability. From basic sliced cheese to gourmet chèvre and brie style cheeses - there is a plant-based cheese for every occasion. Here are some of the tastiest brands to look out for...…
Field Roast Chao offers three varieties of sliced cheese: Chao Original, Tomato Cayenne
and Coconut Herb. Great on sandwiches and makes excellent grilled cheese (melts nicely, too!) Available online and in stores such as Publix and Whole Foods.
Follow Your Heart is extremely versatile in their product offerings. Their shredded mozzarella is really good on pizza, lasagne and casseroles. Their sliced cheeses are excellent. (Flavors: American, Provolone, Mozzarella, Monterey Jack and Smoked Gouda). For some reason, their block cheeses don't hold up to the same standard and I do NOT recommend the blocks. They also have a new shredded parmesan in the tub that is perfect and melts like a dream. Available at Publix and Whole Foods.
Heidi Ho has an excellent spreadable "goatcheese" style cashew product called Ne Chèvre.
They also have a new "Chia Cheeze" product that is great for mac and cheese. They are available online and at Whole Foods.
Kite Hill offers the best cream cheese. They also have brie and ricotta style cheeses and delicious yogurt. They recently added ravioli to their list of products too. They are available online, at Publix and Whole Foods.
Miyoko's Kitchen is one of my favorites for their Artisan cheese selection. They offer a variety of spreadable cheeses, as well as traditional hard cheeses and mozzarella style. Miyoko's also makes fantastic vegan "butter". These products can be purchased both online and at Whole Foods.
So Delicious has a new line of shredded vegan cheeses that are tasty and melt nicely. They also have wonderful milk alternatives, vegan ice creams, yogurts and desserts. The cheeses are available at Whole Foods and their milks and ice creams are available widely in grocery stores.
Treeline Cheeses are available at many Whole Foods locations and health food stores. They offer Soft French-Style Nut Cheeses and Aged Nut Cheeses.
Vtopian Artisan cheeses are to DIE for. They are available for retail purchase online only at veganessentials.com. The Caramelized Onion Camembert is culinary genius! They also carry Macadamia & Cashew Camembert, Chive & Dill wedge, Reserve Sharp Cheddar and Brie style cheeses.
For those who would like to learn how to make their own cheeses, I recommend purchasing these two books: The Non-Dairy Evolution Cookbook: A Modernist Culinary Approach to Plant-Based, Dairy Free Foods by Skye Michael Conroy and Artisan Vegan Cheese by Miyoko Schinner.
Ditch the dairy but not the YUM!