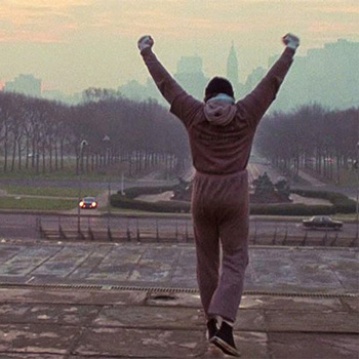 Having just watched the latest Star Wars installment, The Last Jedi (yes some of us were late to that party), and having been mesmerized by the collective genius of George Lucas and company, I began thinking of how many times the big screen has delighted us – and distracted us – from our daily struggles. It's therapeutic to be able to transport yourself to another place, to care about what happens in a fictional land and emerge hopeful, optimistic and refreshed about the state of our human condition. Pretty heavy, I know; and by the title, you'll expect some lame list about great sports movies. Well, yes, that will come later. But for now I want to focus, like a light saber, on what these flights of fancy say about them – and us.
For the longest time, movies were the ultimate form of escape, be it from war, depression, racial and political strife, or just the challenges of daily life. During the early stages of World War II, the movie Casablanca depicted a fictional story of a saloonkeeper in a love triangle, while at the same time forcing him to decide if defeating fascism was worth the cost (spoiler alert: it was, but the hero loses the girl). Yet, remember: When the movie was made in 1942, it was far from a sure thing that the Allies were going to win the war; still the hope and patriotic pride it produces resonates to this day. Three months after President Kennedy's assassination, our nation became obsessed with four lads from Liverpool, their music – and their movies – giving many Americans a reason to smile in the wake of a national tragedy.
There are countless stories of famous – and not so famous – people who used that special, intimate form of entertainment to escape their own troubles, and I'm sure virtually every person who reads this column has, at one time or another, found solace in a great flick, a Hulu or Netflix original series, or a terrific television show. It just helps to lose yourself to a fantasy land where the world can't touch you – at least for a few hours.
Which brings us to sports movies. For sheer unscripted drama, few genres lend themselves to the big screen as well as athletics; yet because we often know the outcome (Miracle, The Jackie Robinson Story, Brian's Song) it is often the fictionalized sporting accounts where we find the most memorable characters and tales. So with no further ado, I give you my top five sports movies, with limited editorial comment. Feel free to discuss – and disagree.
5. Seabiscuit (2003) - True story about a racehorse and the hope it gave people during the depression.
4. Rocky (1976) - Only the first one. To that point, the most realistic boxing move ever made.
3. Hoosiers (1986) - Wonderful story, loosely based on a real Indiana high school basketball team.
2. North Dallas Forty (1979) - Considered a maverick for its time, it's a peek inside a fictional NFL team.
1. Field of Dreams (1988) - I defy you to watch the last scene and not tear up.
That's it folks, and until next time, I'll save you a seat on the aisle.
Action!