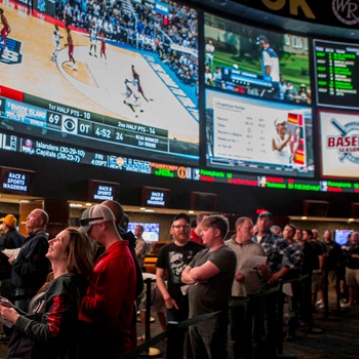 With the news that the U.S. Supreme Court has made it legal to bet on sports in all 50 states, and not just Nevada, those places which choose to ante up and offer point spreads on college and professional sports are betting big that they can corner a small percentage of the sports gaming market now owned by a certain former military weigh station in the desert. Those states that choose to partake are brimming with optimism, like a weekend granny sitting at the slots, gushing with hope and some very big plans. But before everyone cashes in their 401(k) plans and heads for the nearest pari-mutuel, let me inject a word of caution. Actually, two words - in the form of one place.
Atlantic City. Some 40 years ago, a similar step was taken when many states, New Jersey among them, decided to legalize casinos in their jurisdictions – that is to allow full-on casino gambling, complete with blackjack, poker, roulette and every other type of table game known to man (and woman). The hope was to bleed off some of the migration of junketeers, who often ventured to Vegas in search of some Holy Grail – or at least a few hot hands. Casino licenses were sold off to the highest bidders (some even to a certain future president, who didn't fare too well, but that's another story) and the big hotels put their claims in on the Jersey shore.
Initially, things were great: crowds flocked to the city, which only years before was struggling to stay afloat financially, but now was seen as a destination spot. All that Eastern money stayed East – that is, until people began to realize that Atlantic City was, well, Atlantic City. Not to knock it, but let's face it, the allure of the shore went the way of high-buttoned shoes, and soon enough the massive crowds began to dwindle. Today, a few casinos still operate there, but the hoped-for outcome that these new gambling palaces would change the face of the gaming landscape never came to pass. In fact, Vegas became even more of a destination, opening new and swankier hotels and offering an experience no other place could match.
It's still like that; sure you could roll the dice from places as diverse as Mohegan Sun , Connecticut to Tunica, Mississippi, but the allure, the danger, the mystery and the adventure still belong to the person who is lucky enough to land at McCarran Airport and hear the slot machines jingle the minute you step off the jetway. No form of NFL or college betting will ever replace that aura.
And maybe they won't try, that is, the cities, towns and states that will stake their financial futures on being able to satisfy the lust we have in this country for sports betting (an estimated three Billion dollar industry annually). Maybe they'll be content to just have a little piece of the pie; after all, a small percentage of three billion can pave a lot of roads, pay a lot of teachers and repair a lot of bridges. Maybe. But I'm betting the lesson of Atlantic City will be the end game for most places, with the dream of a financial flush slipping through their collective municipal fingers.
So, any new shooters?