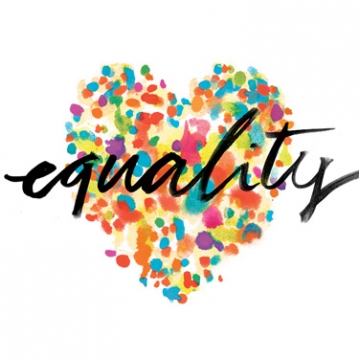 The Beatles had it right from the get-go: Love is all you need. An early American promoter of Love Is All You Need was actually the first woman to run for president of the United States. No, it wasn't Hillary Clinton! Victoria Woodhull was a Lady of Liberty back when actual liberty was reserved for those with political power. In 1872, Victoria Woodhull ran for President of the United States, nominated by the Equal Rights Party, with Frederick Douglass as a running mate (although Douglass never acknowledged he was on the ticket). The Equal Rights Party of 1872 sought to forgive and reunite Suffragists with African-American civil rights activists after the disappointing exclusion of women from protection under the 15th Amendment just a few years earlier.
It was a tumultuous time politically. After years fighting the same battle for universal suffrage, the 15th Amendment pitted men against women. Unfortunately, and sadly, unsurprisingly, the powers that be at the time finally recognized that all men are indeed created equal, but they still were not ready to enfranchise the other half of the citizenry. African- American men couldn't pass up their chance, so they broke with the women's rights activists of the time and asked them to wait patiently for their turn. One has to dig deep to find forgiveness and love in the face of such betrayal. But that is what the Equal Rights Party was trying to do, and they were certainly ahead of their time.
A quick Google search may leave some skeptical about the merits of my chosen exemplar Lady of Liberty, due to her eccentric life being mired in scandal . However, much of the most sordid accusations headlined newspapers during the time she was running for president .
Considering how scandalous it was simply to throw her hat in the ring, I take these character attacks with a grain of salt. Woodhull definitely presented a challenge for people who preferred the status quo. She came from nothing, her mom was illiterate and her dad was a petty criminal. Woodhull only had about five years of formal education, was married to an abusive alcoholic husband at age 15, and bore a child with learning disabilities. And yet she persevered.
Here is a short list of Woodhull's many careers during the 19th century: traveling clairvoyant, first woman to run for president, first female stockbroker on Wall Street, opening her own firm with her sister, first woman to address Congress on the issue of universal suffrage, editor of her own newspaper, founder of an agricultural school in England, and Red Cross volunteer during World War I. Yet she is largely ignored in history books and was disowned by the leaders of the women's suffrage movement, due to her philosophy of free love and her willingness to practice what she preached, at one point living with her ex-husband (divorce was also radical), her husband and her lover at the same time.
Woodhull once said, "It makes no difference who or what you are, old or young, black or white, pagan, Jew, or Christian, I want to love you all and be loved by you all, and I mean to have your love." Her radical stance in this regard is not everyone's cup of tea (much less in the Victorian times in which she lived), but her message of love and equality is definitely something we still need to be reminded of, even as we turn 242 years old.
Happy Birthday, America. With liberty, justice and love for all.