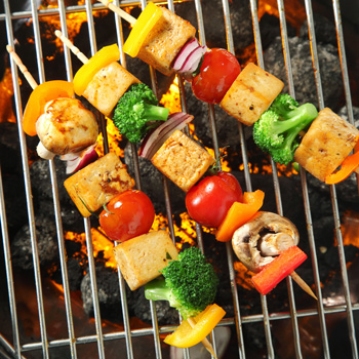 Summertime and barbecues go hand in hand. However, for those who adhere to a plant-based lifestyle, it can seem like something you have to avoid. There is no need to abstain from being social! Either throw your own 100% plant-based BBQ, where you set the terms - or dazzle the meat eaters with brilliant color, variety and flavor! Here are some suggestions for making your next barbecue a culinary delight.
Shish Kebab Skewers are my favorite thing to grill!

You can use bell peppers, marinated (extra firm, pressed) tofu, mushroom caps, eggplant, onions, seitan (wheat gluten), broccoli, cherry tomatoes, zucchini, summer squash, chunks of veggie chick'n (Gardein, Beyond Meat strips, etc.) You can glaze the skewers in any variety of sauces: teriyaki sauce, buffalo sauce, olive oil with balsamic vinegar and herbs, curry sauce, etc. I use a

glaze brush over the assembled skewers prior to grilling. Make sure to turn them so one side doesn't burn.
Grilled Fruits and Veggies - Glazed pineapple rounds are incredibly delicious on the grill. I also love (glazed/marinated and sliced) eggplant, bell pepper halves, corn on the cob, asparagus, and large Portobello mushroom caps.
Veggie Burgers - Some major gamechangers have come out on the market. The top two contenders are Beyond Meat's Beyond Burger (beyondmeat.com) and Field Roast's handformed Field Burger (fieldroast. com). There are countless other tasty burgers that make the cut, such as Beyond Meat's Beast Burger, Gardein's Beefless Burger and Black Bean Burger (gardein.com), Amy's Burgers (amys.com), Sunshine Burgers (sunshineburger.com) and more.
Hot Dogs and Sausages - Beyond Meat recently launched their Beyond Sausage, which has been receiving rave reviews and is flying off the shelves. LightLife (lightlife. com) makes delicious Smart Dogs and Field Roast has tasty artisan sausage varieties, such as smoked apple sage, Mexican chipotle, and Italian. Tofurky (tofurky.com) also offers several sausage flavors such as spinach pesto, Andouille, kielbasa, and beer brats.
Don't forget the fixin's!
There are several vegan mayos, including Just Mayo (justforall. com), Follow Your Heart Veganaise (followyourheart. com) and even Hellman's now has a certified vegan mayonnaise. Also, bring the sliced cheese for your veggie burgers! Field Roast Chao cheeses are fabulous, as well as Follow Your Heart, which offers a variety of dairy-free sliced cheese flavors.
Note: You'll want to bring some foil to put on the grill to avoid cross-contamination. I usually bring some spray oil too.