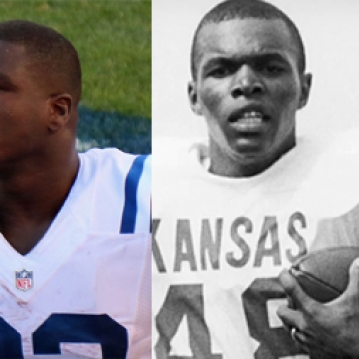 Frank Gore will likely play a lot of football for the Miami Dolphins this season. Well, you say, of course he will; in fact, since finishing his career at UM in 2001, Frank Gore has played a lot of professional football, 14 seasons to be exact. He's a 5-time Pro-Bowl honoree and rushed for over 14,000 yards in his career. There's even an outside chance he'll be considered for the Pro Football Hall of Fame when he's done slashing opposing defenses. While that's not an earthshattering fact, it's still a medical marvel when you consider Frank Gore's medical history.You see, Frank Gore did almost all of this work while running on two surgically repaired knees.
Actually, it's not uncommon for athletes in all sports to return to competition within weeks of surgery, something unheard of only a few years ago. People of my dad's generation will tell you long before there was a Barry Sanders or a Reggie Bush, there was the Kansas Comet – Gale Sayers. Electrifying. Breathtaking. Head shaking. The guy was unreal. Don't believe me? Look up his highlights up on the internet. Six touchdowns in a game played inthe mud versus the 49ers his rookie year. Was consensus rookie of the year for 1965 and All-Pro for 4 of his 7 professional seasons.Wait, you say, just 7 seasons? Yep, because in the 9 th game of his 4 th year, Sayers suffered a season ending knee injury. He tried to come back but sports medicine in 1968 wasn't what it is today – or even what it was 15 years ago. Consider Sayers received all those accolades and in those last two seasons he rushed for a grand total of 90 yards. Still, he was a first ballot Hall of Famer and on the All Decade team.
Sayers often said if he wished he'd had just 1/10 th of the sports medical options available to modern day athletes when he was injured. Oh, he'd recover to become the comeback player of the year the following season, but he was never the same. Thankfully, for the athlete and for the fan, sports medicine has advanced light years since 1968. Pre and post-operative surgical and rehab techniques, as well as new medications, allow the injured player to return faster. An athlete can have the same knee injury yet continue to be productive –even be a superstar (think of a certain New England Patriot QB).
So, while cheering Gore and his exploits this season, remember the guy wouldn't even have played one season (never mind 14) had it not been for the brilliance, dedication and innovation afforded to today's modern day gladiators by the sports medical community. A big thank you to the men and women who do that work!