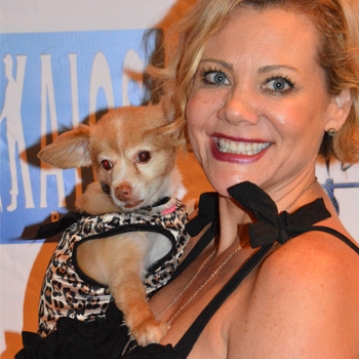 Alongside a road in Salinas, California, a cardboard box held a secret. Inside, frightened and dehydrated were six Chihuahua-mix puppies and their parents. Fortunately, their luck had just changed. A kind lady took them, hoping to find them safe sanctuary. The shelters were nearly full. She feared if no one adopted them, they would be put to sleep. In desperation, she stood outside a pet store, pleading with animal lovers for help and good homes.
Nearby, having lunch was a mom and two children. The kids had been begging for a puppy. This was serendipitous. She caved. Nestled in the boy's hoodie was the runt of the litter, a tiny golden and white puppy. Their dad was surprised with the new addition, but she quickly won him over with her sweet disposition, and how gentle she was with the girl and boy.
From that meager cardboard box, Ginger Marie moved on up to a luxurious large home. Sensitive to noise, she was timid, wary of anything or anyone new. Ginger never made a peep and hid from visitors, with one exception.
Bonnie Bruderer worked with the dad. They had weekly business meetings at the family home. Ginger looked forward to seeing Bonnie. She would sit on her lap during their meetings. Months later, she made her first squeak, greeting Bonnie. Life was pretty dog-gone good. Ginger was loved and cared for, had a family, a beautiful home, good food, and that special friend.
Suddenly, the daughter got very ill and went into a coma. Bonnie was told a neighbor would take Ginger to boarding, as they stayed at their young daughter's bedside. Even though she had never had a dog before, without a second thought, she offered to foster Ginger. They knew how fond of Bonnie Ginger was, so they happily agreed. She acclimated to Bonnie's schedule and home. They enjoyed walks, hiking and play dates at the beach. Ginger was encouraging Bonnie to be less of a workaholic and take breaks. It was exactly what she needed.
Thankfully, weeks later, the daughter made a full recovery. It was recommended for her health to not have a furry pet in the family home. This was joyously welcome news. After the special time they had spent together, Bonnie couldn't imagine her life without GinGin. It was a winwin-win. They flourished.
In late 2012, Bonnie was offered a position in New York on a talk show. These two ladies relocated to the Big Apple, and never looked back. Ginger adjusted with ease and grace to city life, especially the delectable findings. She went with Bonnie to work at the show. Her excellent manners intact, she never caused an additional take in over 700 filmings.
Ginger has logged over sixty flights, traveling all over the traveling all over the United States. She is always quiet, friendly and brings joy to all who meet her. This year Ginger and Bonnie moved again, this time to South Florida. Loving the sunshine, they explore their new city and make new friends. Nothing else matters as long as they are together.
With all their hustle and bustle, Bonnie searched for an antibacterial paw spray.
They could not find one, so with Ginger as inspiration, they founded Dirty Dog, with a portion of proceeds benefiting rescues. www.DirtyDogLovers.com Ginger also has her own channel on BINGEnetworks TV.
So, if you think things can't get better, consider a scared puppy in a cardboard box, with no idea where the next meal will come from, or if she will be safe, loved and cared for. Remember, never lose hope. A life better than you can imagine awaits, when you believe you truly deserve it.