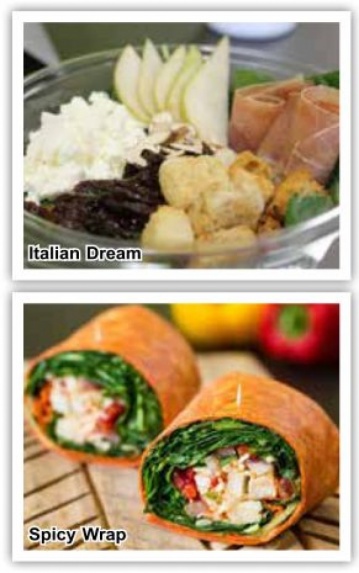 Not quite your English tea room, Boca Raton's Health Tea Organic Kitchen exudes a charm designed to appeal to a 21 st Century clientele.
A paradigm of what we would call "boutique" restaurants, this gorgeous eatery is the brainchild of Johanna and Ramon Ortiz who spent time and effort sourcing the finest organic teas and ingredients that form the foundation of their cuisine.
The interior sports an open kitchen which runs almost the entire length of the dining room. Vibrant shades of green energize the space which has four tables surrounded by elegantly crafted lime green chairs. An enchanting area to the right of the entrance has the élan of a Beatrix Potter tableau. Service is caring and outstanding.
Breakfast abounds in delectable organic favorites. The Egg and Turkey Panini, for example, features egg whites plus crisp turkey bacon in a whole grain panini (every ingredient is certified organic). Prices range from $4.99 to $6.99 in keeping with the aim of providing quality organic food at affordable prices.
Soup, always a favorite opener for lunch or dinner, is made fresh every day with the same careful selection of pristine organic ingredients. Creamy Butternut Squash Soup has a depth of flavor and texture that makes each spoonful a moving experience..Ditto for the hearty Roasted Tomato Soup.
Seven deliciously inventive salads are masterpieces of culinary ingenuity. The Italian Dream is a combination of spinach, chard, baby kale enhanced with mozzarella, pear and sun dried tomatoes.
The suggested pesto dressing gives a splendid lift to this superb assortment. Another winner, the Caesar Special, is a dynamic blend of spring mix, celery, mango and sun dried tomatoes. Croutons add an extra crunch and the house's Caesar dressing adds a delightful finishing touch.
Imaginative wraps make for scrumptious dining experiences. The K-Vitamin, for example, binds lettuce, alfalfa sprouts, mango and shrimp in a whole wheat tortilla energized by the chef's Thai dressing. Bite into the Capri and enjoy a bounty of spring mix, quinoa, black olives asparagus, grapes and leeks enlivened by a fragrant pomegranate vinaigrette.
Throughout our nibbles, we had the pleasure of sipping on two (of many) signature organic tea creations Hints of peppermint and exotic hibiscus blossoms were blended with a white tea base in the stunning Summer Tea. An equally imaginative blend of herbs designed to purify the body plus ginger citrus and peppermint gave the Detox its splendid appeal. A scrumptious muffin provided a sweet finishing touch.
Take out, delivery and catering services are available upon request. For more information, log onto www.healthteaorganickitchen.com
7491 North Federal Highway. C-17 • Tel: 561-571-6035 • Closed Sunday