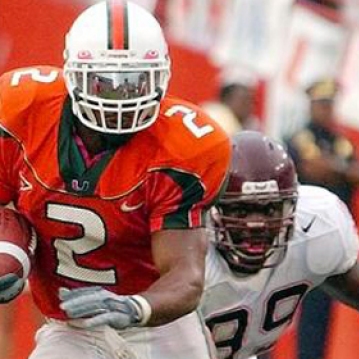 For as long as we've been meeting in this space, at this time of the year, the college football preview has generally included the state's Big Three universities. And with good reason: Between UF, FSU and UM they've accumulated eight national titles, numerous conference championships and a ton of guys who now play for your favorite NFL teams on Sunday (that preview appears next month) – so it's natural to focus on their chances. No more. Many national publications now include the Knights of Central Florida. That's right, UCF has now joined the party; so let's dust off the crystal ball and see who's doing what this year.
UM: The Canes return a ton of talent at QB (Malik Rozier), skill positions (Ahmonn Richards, Mark Pope, Jeff Thomas) and an impressive defensive roster, enthusiastically coached by coordinator Manny Diaz, and featuring LBs Shaquille Quarterman and Michael Pinckney, as well as a stacked defensive line rotation. Schedule-wise, the Canes face their toughest test when they host FSU on October 8. A trip to Virginia Tech at the end of the year could be for the division title, but it says here it won't matter by then. Prediction: 10-2, Coastal division champs.
UCF: Yes, you read that right. The Golden Knights are here to stay, though the impact of losing head coach Scott Frost to Nebraska has yet to be determined. But when you return with All-Conference QB McKenzie Milton, plus WRs Gabriel Davis, Marlon Williams, and human roadrunner RB Adrian Killins, a total of 14 starters, your roster is solid. Whether new HC Josh Heupel can recreate the Frost magic remains to be seen. Prediction: 9-3, AAC East Division champs.
FSU: At first glance, both FSU and Florida face somewhat similar situations. Both schools having first year head coaches and coming off disappointing years would seem to suggest similar outcomes. Not quite. For the Seminoles, their weaponry is far more advanced, starting at QB (most likely true sophomore James Blackman) and a cadre of stud RBs lead by Cam Akers and Jacques Patrick. A solid defense is anchored by CB Levonta Taylor. If new DC Harlon Barnett, brought over from Michigan State, can get these guys to play hard, FSU could return to glory days. Prediction: 8-4, second in ACC's Atlantic Division.
UF: For Gator fans the goal is simple this year. Pray that new HC Dan Mullen can rediscover the word offense – not the adjectival version of the word, offensive. Which is pretty much what UF has been for the last nine years. Last year UF ranked 109 th in total offense. Mullen does have a history of developing QBs (Tebow, Prescott, Fitzgerald), and the pantry has a few solid items at RB and, potentially, WR. Defensively, a new 3-4 scheme will be overseen by DC Todd Grantham. But there's a lot of mess to clean up, and UF is still in the SEC. Prediction: 7-5, third in SEC East.
That's it folks, here's hoping your team leaves you with good memories – or at least, good parties.
Let's kick it off!