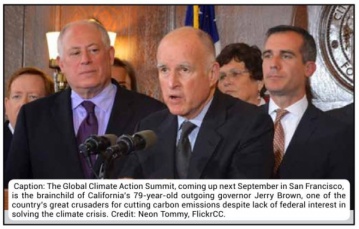 Dear Earth Talk:
How did the Global Climate Action Summit, coming up later this year in San Francisco, come about and what do organizers hope to accomplish?
- Jamie Smith, San Jose, CA
The purpose of the forthcoming 2018 Global Climate Action Summit – scheduled to take place September 12-14, 2018 in San Francisco, California – is to showcase the actions that state and local leaders, businesses, investors, scientists, students, nonprofits and other so-called "sub-national actors" have taken to reduce their emissions already. Organizers hope to secure bold commitments from them to do even more, thus showing that decarbonization and economic growth go hand-in-hand and galvanizing a global movement for climate action that leaves no one behind.
This new international meeting is the brainchild of California's 79-yearold outgoing Governor Jerry Brown, one of the country's great crusaders for cutting carbon emissions despite lack of federal interest in solving the climate crisis. According to Brown, subnational actors are a critical part of the climate solution and can help push the world's leaders to go further, faster. These leaders will join citizens from around the world to showcase examples of major climate action initiatives already taking place without the aid of the federal government. They hope to inspire deeper commitments from each other and from national governments in support of the Paris Agreement.
Brown has tapped three leaders as summit co-chairs: Patricia Espinosa, executive secretary of the United Nations Framework Convention on Climate Change; Anand Mahindra, chairman of the Mahindra Group, an Indian conglomerate that recently committed to meet the Paris climate agreement commitments; and Michael Bloomberg, the former mayor of New York City and founder/CEO of Bloomberg LP who is a vigorous campaigner for and generous donor to environmental causes. These three are primarily responsible for shaping the event's purpose, format and overall curation and leveraging their voices and networks for the cause.
Why now? According to Brown, 2018 is a turning point: Countries and all of us must step up the commitments that were made in Paris and do more. "The momentum we generate this year must lead to a climate turning point by 2020 in order to prevent the worst effects of climate change," says Brown. "It must be the beginning of a new phase of action and ambition on climate change."
Participants are expected to go beyond just sharing what they have achieved to date and announce stepped-up commitments to usher in what organizers are hoping will be "a new era of decarbonization and prosperity." The culmination of the meeting will be a call to action to nations to step up their ambition under the Paris Agreement and cut emissions on a science-based trajectory that limits warming to well below two degrees Celsius.
"The Summit seeks to change the climate conversation, broaden and depoliticize the issue, and activate everyone to call for change to preserve our future," Brown concludes.
The governor's actions in steering California to be one of the world's most fuel-efficient large economies are even more inspiring than his words. Given that Brown won't be able to run again for governor due to term limits, the Summit may represent the last hurrah of his storied political career.
CONTACT: Global Climate Action Summit, globalclimateactionsummit.org. EarthTalk® is a weekly syndicated column produced by Doug Moss and Roddy Scheer for the nonprofit EarthTalk. To find out more, submit a question, or make a donation, visit us at EarthTalk.org.