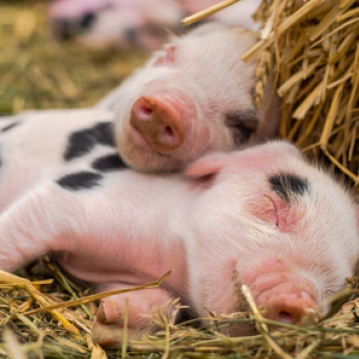 We are living in a viral information age. Unfortunately, that flood of information arrives in an array of truths, half-truths, sensationalist spins, marketing propaganda, as well as flat out falsehoods. It's often hard to parse through this data wall and reach an educated and informed decision on any given issue. We must use a blend of our critical thinking, investigative research, as well as a healthy dose of our heart, compassion and conscience to reach the clearest conclusions.
Social media has become a very robust video sharing tool, and there are few people in the US who haven't yet caught a glimpse of undercover factory farming videos, intensive confinement and animal abuse. Many people believe this is wrong. As a result, they are fervently looking for more responsible and sustainable sources. Companies who market these "high welfare animal products" are promoting themselves as the answer to the problem of systemic violence, abuse and suffering in the animal agriculture industrial complex. Their packaging displays bucolic scenes of animals roaming freely and engaging in their natural, instinctual behaviors. Proudly sporting labels such as "humane certified", "grass-fed", "free range", and "pasture raised", they are (very effectively) seducing the public into purchasing at a premium rate - and what consumers get in return is a pardon and release of their internal guilt and concerns.
Unfortunately, as the willing few travel further down the tunnel of research, they will find rampant duplicity behind these labels. There is incredible suffering on every level. This is what happens when sentient beings are commodified. And more importantly, these were young, healthy animals who wanted to live. Like so many caring people, I once looked for the humane way to do an inexorably inhumane thing - and this was the impasse I found myself at, once I learned the truth.
As this is the HAPPY Herald, and I want to get to the happy part ASAP, I urge you to visit one of my favorite resources to learn what the legal requirements are to get those "humane" labels smacked on those neat little packages: Visit HumaneFacts.org.
Now - here is the good news! We are powerful.
As paying consumers - and part of the bottom line for multiple corporations - our purchases influence industry and shift consumer demand. Every purchase is a vote and represents our voice. We also speak on behalf of those who lack representation (animals and humans, alike). We vote for what we want to financially support. We vote for the kind of world we will manifest. Do we want to cast our votes for peace, sustainability and compassion? How many of you said YES?
The fact is, consuming and purchasing vegan products is so impactful that every day, "a person who eats a 100% plant-based diet saves an average of 1,100 gallons of water, 45 pounds of grain, 30 square feet of forested land, 20 pounds CO2 equivalent, and one animal's life!" And the suffering spared is FAR greater than quantified in those statistics. "The vegan population in the US has increased 600% in the last three years". As a result, there are vegan versions of every food imaginable - and new products are on the market every day! Learn more about the vegan lifestyle at CompassionateFarming.org