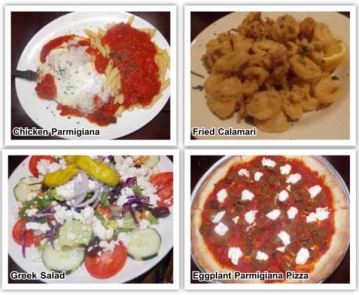 Pepperoni Grill in Coral Springs is where you want to be when you are looking for fabulous Italian fare. On a sultry Tuesday evening, when most restaurants are hoping for a few customers, this Coral springs landmark was packed to the rafters.
The spacious dining room is light, airy and filled with works of art that are as soothing as they are charming, Large comfortable booths, polished wooden tables and other furniture provide a muted elegance as do the marble accents of the open kitchen situated near the entrance.
Proprietor Chris Muller provides a menu which is colorful, easy to read and filled with an appealing range of popular and signature Italian specialties. There are contemporary touches, such as Buffalo Wings along side signature openers such as Pepperoni Sticks and the Grilled Veggie Napoleon. Our order of Fried Calamari was crisp, succulent and made more enjoyable by the marvelously fragrant cups of marinara sauce.
The presentation of the Greek Salad is as exhilarating as the combination of ingredients. A fragrant spread of feta cheese enlivens a gigantic bounty of mixed greens, tomatoes, cucumbers and kalamata olives.
Although we were ordering for two, the serving would easily accommodate four or more. The house crafted balsamic dressing provides another level of heightened excitement. The range of salads is just as intriguing as the list of appetizers.
Even the pizzas have a brilliance and inventiveness that point to a kitchen which possesses a mastery of colors as well as flavors. The unique style of the staff comes across loud and clear in such masterpieces as the Eggplant Parmigiana Pizza .Tender cuts of eggplant form a haunting topping with the aid ricotta, marinara sauce and Romano cheese. Depending on your preferences, you may wish to add touches of fresh mozzarella.
The art of balancing colors, textures and flavors continues with established favorites such as Chicken Parmigiana. The bountiful chicken filet prepared with awesome precision delivers flavors that mesmerize the palate. A side of al dente penne infused with a fragile sauce demonstrates once again the ingenuity of this kitchen A serving of pinot grigio is certainly the ideal accompaniment for this exquisite cuisine.
Sweets exhibit the same panache. The rich, dense chocolate cake is a triumph of the baker's art. Service throughout our dinner was flawless and we owe so much of our enjoyment to the ever patient waiter, Joe, who timed the arrival of each course perfectly.
Take out and delivery are available upon request. You can order online at mypepperonigrill.com. Catering has been a tradition at Pepperoni Grill and they can easily accommodate groups of 10 to 500.
9174 Wiles Road (Tel) 954-345-1604 Lunch and dinner