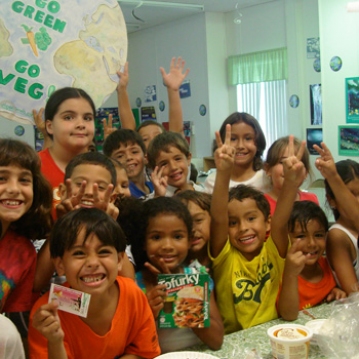 Since 1980 I have been focusing on using a myriad of effective strategies to stop the harming of other animals. Most people do not wish to hurt other animals, and when they realize their consumer dollars are supporting animal cruelty, environmental destruction and a hazard to human health, they change. The single, most powerful act you can do to help animals, the earth and your own well-being is to go vegan.
After almost 40 years dedicated to educating, organizing, writing and activating, I have road-tested a few tried and true game changers.
Three Steps to Positively Veganize the World
Step 1 - Be your healthiest, most compassionate, and joyful self. You are your own walking, talking billboard, ensure you are a party people want to join. This step translates to being kind to yourself, too!
Step 2 - Eat, Vegan, Love. Cook, bake, host, feast and enjoy. Invite family and friends to dine or meet at the newest vegan hot spot in your locale. Check out local vegan meetup groups, or Earthsave chapters for potluck dinners or picnics. If you live in an area that doesn't have vegan hot spots yet, try Japanese, Italian, Thai – there will be many vegan choices there, and then leave one of these cards (see photo) behind for the manager to ensure the choices keep on growing. Please, email education@animalherokids.org for the cards.
Step 3 - Vegucate. Always have a free vegan starter kit, or even a small card with websites for free, vegan resources and recipes. I have lost count of the number of times I have given out the PCRM.org (Physicians Committee for Responsible Medicine) website out to someone deciding between Lactaid and almond milk – it's amazing the number of people I see gazing at the refrigerated shelves of the soy/almond/coconut… milks at my local grocery store. They may have just watched something on Dr. Oz about dairy milk or have a relative who is advising them to stop dairy. Too shy to vegucate others yourself? Support your local vegucators. I would be remiss not to mention the education work of the all-volunteer charity AnimalHeroKids.org here, reaching 30,000 students each year and offering free vegan fare after each program whenever possible. Whistleblower Saves Piglets.

A bonus story – an excerpt from the "Animal Hero Kids: Voices for the Voiceless" book , available at AnimalHeroKids.org Imagine if you were with a group of friends who thought it was fun to be cruel. Would you be strong enough or brave enough to act in the victim's defense? There is one teen whistleblower who was. Eight baby pigs were rescued thanks to the teen's quick action. The piglets were being used for paintball practice. Thanks to the whistleblower calling everywhere, and finally finding Elaine West who runs a pig sanctuary in Gainesville called Rooterville, the piglets are now safe in a place where they can sniff, play and be a pig.
This is one of the stories I tell at school assemblies. I love the fact that kindergarteners learn what the word whistleblower means, and how being kind to all animals, including human animals, is definitely the way to live.