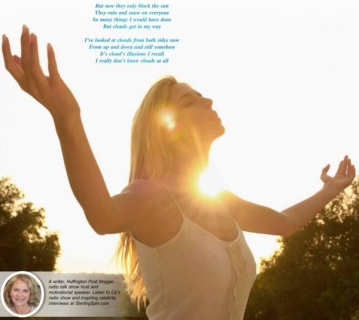 As a New York transplant living in Florida for nearly 28 years, I have grown accustomed to forgetting what season we are currently in. Oftentimes, I have to stop and think, what's going on up north? Is it cold? Are there storms?
There is something else I've been observing, and maybe you've noticed the same thing: I take for granted the continuous warmth the sun provides, the ease of running outdoors without layering up, and strolling through the farmers market all winter long.
How about you? Have the memories of the cold weather left an indelible impression, or are you living in the moment of the warmth that sunny Florida provides?
I write this article from Nantucket.
It is early morning in late October. Currently it's 44 degrees and the wind is whipping from 18-22 mph. Brrrrrr. It's been a week of brrrrr. I am cold inside and ache for the down comforter. My nose is red and these rosy cheeks are continuously blushed here in this land of gray.
Yet, I am here, drinking in the last sunrises and sunsets – and all the beautiful sights here in Nantucket. A few more intoxicating days of being on this magical island 30 miles from land – in the middle of the sea – with copious seagulls and cobblestone streets and marshland and wooden benches to sit on – a gift from the land trust – benches everywhere – an invitation to take in the moment, in a most settling way – way more gentle than the running, busy, doing way … it's truly nourishment for the soul. And although it's cold outside, it's warm in my heart.
This is what life is about. The polarity, duality, the yin and the yang … a little good and a little not so good, a bright sunshiny day can also be darkened with anxiety or fear or concerns that are running rampant in America today. It's become a world of both/and, no longer either/ or.
All of a sudden I am hearing Joni Mitchell's song, "Both Sides Now," in my head … I'm singing it, struggling to remember the lyrics … so here are the first couple of verses and the sing-along chorus:
Rows and flows of angel hair And ice cream castles in the air And feather canyons everywhere I've looked at clouds that way
But now they only block the sun They rain and snow on everyone So many things I would have done But clouds got in my way
I've looked at clouds from both sides now From up and down and still somehow It's cloud's illusions I recall I really don't know clouds at all
Singer and songwriter Catherine MacLellan interprets the song this way: "'Both Sides Now' is, at first, a meditation on clouds, the whimsical way a child sees them, as 'ice-cream castles in the air,' but there are two sides to everything, and as we mature, we stop seeing clouds for their simple beauty, but as a sign of rain or bad weather. It is like that with all things that seem at first so simple and beautiful, such as love and life. We start out with such natural optimism as children, and then as adults we tend to learn a bitter pessimism or brutal honesty, seeing clouds/life/love for what they are."
If we are predisposed to seeing through our own lenses, my goal in writing this article as we approach Thanksgiving is to invite you to remember there are both sides, two perspectives, if you will, that live side by side. Manage the expectations, disappointments, worries and fears with gratitude, appreciation, anticipation. Watch where your thoughts and feeling are positioned as the election unfolds, holidays approach and tensions arise. Remember the yin and yang, the moment of choice, and see both sides of your mind. Choose to see the best in yourself and others, and bring out the best in yourself!
Yes, it's cold outside and the whipping wind diminishes my enthusiasm, chafes my skin and leaves my hands and feet cold, yet how blessed I am to be able to know the gift of gratitude as a guaranteed elixir to see some light through the clouds and to cull hope from the heavens. "We are not here to curse the darkness," JFK said, "but to light a candle that can guide us through the darkness to a safe and sure future. For the world is changing. The old era is ending. The old ways will not do."
This season, as we light the way to warm our hearts, to come together in celebration of the good we have in our lives, remember your gratitude, your blessings and the gift that comes with duality … seeing from both sides.
Sing, celebrate, pay attention, and may all that we consume feed and nourish our hearts and souls so that peace may prevail on Earth.
Warmly, Liz.