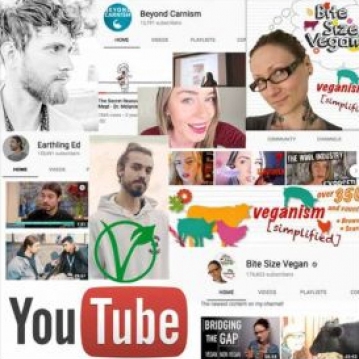 As a vegan educator and transition coach, people are constantly asking me for educational resources. If someone is committed to reading a book or sitting through a two-hour documentary, I am enthusiastically ready to get them reading and watching. Unfortunately, most people have crazy schedules and scant time to do anything outside of working, taking care of their families and doing chores. This is why I strongly encourage people to go on YouTube for "bite-sized" snippets of education. There is a treasure trove of vegan gold on there. It's easy for anyone to watch a fiveminute video while you are in the midst of your daily routine.
Here are my top YouTube channel picks:
Bite Size Vegan
(Emily Moran Barwick) This is one of the most well-researched and comprehensive collections of vegan information by topic. Emily calls her videos "vegan nuggets, loaded with rigorously-researched information distilled down to fast, power-packed bites." Her videos have had over 16 million views, and her channel has 176,000 subscribers. You can also visit her website at BiteSizeVegan.org.
Earthling Ed

Ed has become a vegan guru of sorts, showing the most graceful, eloquent and effective ways to approach vegan activism, outreach and coaching. His videos have had over eight million views and his channel has 133,000 subscribers. You can also visit his website at EarthlingEd.com.
Erin Janus

Erin's videos span several different topics, from Animal Rights to Health and Spirituality, describing herself as "a passionate vegan, activist, writer, journalist, video producer and aspiring musician." She only has nine videos on the topic of veganism so far, but they are exciting, informative and creatively produced. Her videos have had over 10 million views and her channel has 235,000 subscribers.
Beyond Carnism

Beyond Carnism is the YouTube page of Dr. Melanie Joy, Ph.D. – a Harvard-educated psychologist, author, speaker and relationship coach. Her organization works to expose and transform carnism, the subconscious belief system that conditions people to eat certain animals. To learn more about carnism, visit their website at Carnism.org.
The Vegan Activist
You can find excellent, well-produced educational short films and resources on various vegan topics here. His videos have had over 4.5 million views and his channel has 74,000 subscribers. You can also visit his website at TheVeganActivist. com.
Mic the Vegan

Mic the Vegan is a "vegan science writer that covers a variety of topics from the health effects of a vegan diet to the environmental impact of eating animal products. He regularly tackles debunking the myths that perpetuate harmful dietary and lifestyle behaviors." His videos have had over 22 million views and his channel has 264,000 subscribers.
There are so many other people who have made significant contributions to the vegan education media space, but this is an excellent grouping to get started with!