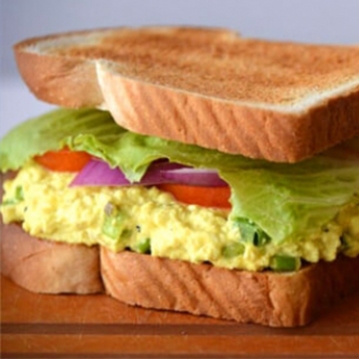 Tofu "Egg" Salad Sandwich
Ingredients
• 1 block firm tofu, drained
• 1/3 cup vegan mayonnaise (brands like Veganaise or Just Mayo)
• 1/3 cup sweet pickle relish
• 1/2 tsp. lemon juice
• 1/2 stalk celery, diced
• 1/2 tsp. garlic powder
• 1/2 tsp. onion powder
• 1 tbsp. mustard
• dash paprika for garnish (optional)
Steps to Make It

In a medium-sized bowl, mash the tofu with a fork until it has the consistency you prefer; it's best a bit smaller than a bit larger, as it will carry the rest of the flavors better. Add the mayonnaise, sweet pickle relish, lemon juice and diced celery, stirring to combine well. Then sprinkle with the garlic powder and onion powder and stir in the mustard. Taste, and adjust seasonings to taste. You might want to add a dash of salt if you like saltier foods.
Finally, sprinkle with a dash of paprika for a bit of color and garnish.
Serve your tofu "egg" salad on lightly toasted bread with lettuce and a couple of tomato slices for a vegan "egg" salad sandwich, or spread on crackers for casual hors d'ouerves. Store in the refrigerator at least half an hour before serving.
Makes four servings
Recipe courtesy of People for the Ethical Treatment of Animals (PETA) which is the largest animal rights organization in the world with more than 6.5 million members and supporters. Visit PETA.com for more information.