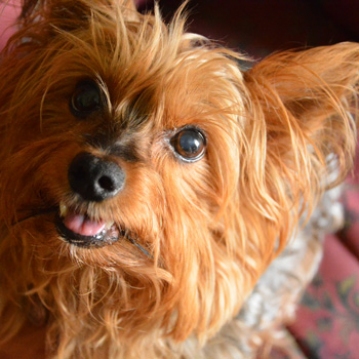 With the luxury of time for socializing, planned activities and amenities, empty nesters/mature adults/retirees free themselves from the responsibilities of single family homes and move to adult communities. A friend's home and large yard are getting to be too much. She shared her plans to relocate to a community that is not petfriendly. "Oh, there's a loophole. I can register my dogs as emotional service animals (ESAs)", she said. I quickly muted my phone, as I burst out, laughing. I love her dogs, but they do not know basic commands (sit, stay, come, down). They are unsocialized, yappy, and not totally housetrained. She planned to go to her doctor, get a letter, register the dogs as ESAs, and buy certification online. This recipe for disaster is why legitimate ESAs are frowned upon, given grief and/or denied.
I am a firm believer that our furry (finned, feathered, spiked and scaly) family members provide daily emotional support. HOWEVER, there are safety/liability issues, procedures, qualifications and guidelines for having pets properly classified as service, support, therapy animals. There are legal, ethical and moral concerns. The law states:
"Under Florida's service animal law, people with disabilities who have service dogs/assistance animals are entitled to full and equal access to housing. They are liable for any damages the service animal causes to the property and/or to another person.
"The federal Fair Housing Act requires housing facilities to allow service dogs/emotional support animals, for a person with a disability to have an equal opportunity to use/enjoy the home. You must have a disability and a disability-related need for the animal. The animal must work, perform tasks or services, or alleviate the emotional effects of your disability to qualify.
Unlike service animals, ESAs are not required to be trained to perform a service for their handlers. An ESA provides emotional support for their handlers and can qualify as long as the animal does not cause a disturbance or undue hardship."
People easily acquire certifications and vests so their pet can accompany them to places including restaurants, grocery stores, movies, planes, trains and even on cruise ships. It is imperative to be truthful and transparent about your pet's capabilities. The increase in falsely (yet documented) ESAs has resulted in more regulations. Nearly 30 states are instituting fines and consequences for falsely claimed service animals.
Prevalent signage in the doorways of establishments states: "No pets allowed. Accredited service animals only." Yet we all have seen vested dogs lunge, bark, growl, nip, hump and relieve themselves. You're doing yourself, your pet and the public a huge disservice by pushing the boundaries of the law to satisfy a personal need to have your pet as your plus one.
Work with your dog to earn AKC's Canine Good Citizen designation. These are basic manners/ guidelines that every companion dog should abide by, if they are going to be out in public as a companion, ESA or therapy candidate.
This assures the safety and wellbeing of your pet, yourself and everyone else.