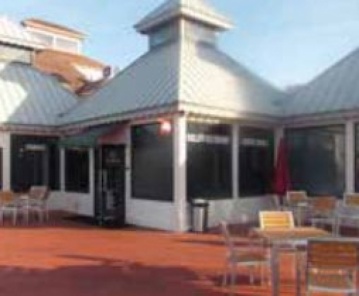 Boca Raton's Southwest 18 Street is justifiably famous for its collection of fine restaurants, and just before you arrive at Jog Road be sure to visit L'Chloe, a gem of three interconnected pavilions with high pitched roofs. The complex with its vast patio and breathtaking panorama has the flare of a French château`. What makes it even more fabulous is the exquisite cuisine of Chef/ Proprietor Eric Chen.
In the dining room, all eyes are on the view which is inspiring in any type of weather. The serene lake with its arching water sprays reaches across to manicured lawns and swaying palms. Since it was a chilly afternoon, we opted to sit in the spectacular high ceiling Café main room, although there were a number of patrons escorted by the their young daughters who preferred the brisk breezes coming off the lake.,

The cuisine adds a higher level of excitement and has that rare quality of transforming an early afternoon bite into a sublime feast. There are many gourmet treasures listed on the menu which from our point of view is a delight since it justifies (as if any justification is necessary) a series of return visits.
At the entrance pavilion, rolled ice ream is expertly prepared from scratch. A professional staffer blends the desired ingredients to form a thin circular spread and then uses a spatula to gently form delectable scrolls. There are over a dozen flavors from which to choose and after each roll is placed into the serving cup, you can request a variety of toppings.

The entrance to the Cafe is located in the adjacent pavilion facing the patio. From the tri-fold menu, we selected the incomparable Baby Spinach salad, ingeniously plated to echo the pyramidal motif of the architecture. The masterful pairing of vibrant spinach, artichokes hearts, cherry tomatoes, wafers of shaved parmesan and blood orange dressing will leave you yearning for another serving. Ditto for the Smoked Salmon Platter that become all flavor and crunch when you pile slices of the luscious seafood on crispy cristini garnishing each portion with caramelized onions and caper sauce.
These pieces de resistance are only start of a journey that includes signature creations such as Chicken Milanese, a Hot Panini Special; that sets the pulse racing featuring a fresh loaf packed with savory roasted chicken partnered with fresh mozzarella, fresh tomatoes, fragrant basil and a dollop of balsamic glace. For this treat, order some Bubble Tea ( made in house, twelve varieties) served in light bulb shaped glasses.
For a most delicious final act, you must, of course order, Rolled Ice Cream and if your escort shares my passion for elegant finales, order the homemade Tiramisu, undoubtedly the best in town, If you have children, they too will enjoy every treat.
6885 SW 18th Street • (Tel) 561-334-2088 • Open every day