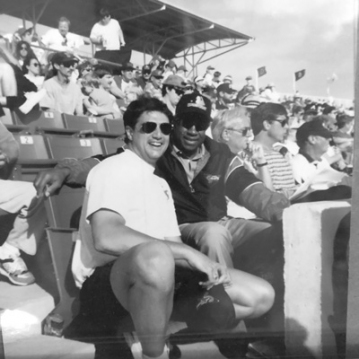 One of the things many of us need to come to terms with – as we reach a certain age – is the certainty life brings to us. We move away from our hometown; we change our friends; we marry; raise a family; and then, sadly, see those closest to us pass on.
When you care about someone who dies, it affects you in different ways. The loss of a parent, or God forbid, a child, or anyone close to you, forces you to reflect on who you are, where you are in your life and sometimes, crystallizes what you still want to accomplish. What does this have to do with sports, you ask? Plenty, when it's one of your sports heroes who passes away.
Growing up in Baltimore, the big teams in town were the NFL Colts (yes, they used to play there before there was an Indianapolis incarnation) and baseball's Orioles. The unquestioned leader of those Oriole teams was an incredibly talented, temperamental right fielder named Frank Robinson. He was traded to Baltimore in the winter of 1965, thought to be past his prime and dealt, after having lead the Reds to a pennant and being named the NL MVP in 1961. When he came to Baltimore, the team was already talented, having been in several pennant races, but unable to close the deal. That all changed starting with the 1966 season. Frank's impact was immediate. His leadership style was open and obvious. He was NOT the "lead by example" guy; he was the in-your-face, spikes-up-when-sliding, calling-teammates-out guy.
Which is easy to say, but hard to do. Why? Because you can talk all you want about being a leader; doing the things that gain the respect of your locker room is a whole different deal. And Frank had the goods to back up his demanding style of leadership.
His first year in the American League, he hit .316, drove in 122 runs, and smacked 49 home runs. And, oh yeah, those stats won him the Triple Crown. A feat so rare only 13 men have done it and only once since 1967. The Orioles won the pennant that year by nine games, then swept the favored Los Angeles Dodgers in the World Series. To top off an incredible year, Frank was named MVP of the series. Over the next six seasons, Frank would lead his club to three more pennants and one more world championship. Then, in January 1972, they traded Frank to another club. I was crushed. The team would win again, but never had that unquestioned leader. Frank's career would go on, becoming a trailblazer as the first African- American manager and winning Manager of the Year before working in the commissioner's office.
So when word of his passing came I was transported back to my childhood – to days of transistor radios, of actual pennants on bedroom walls and of backyard baseball games where I, as Frank, hit the game winning home run. I suspect many reading this column had the same feeling when their heroes pass on. So I raise a toast to the man who enriched my life with his passion and style. Godspeed F Robby, there will never be another one like you.