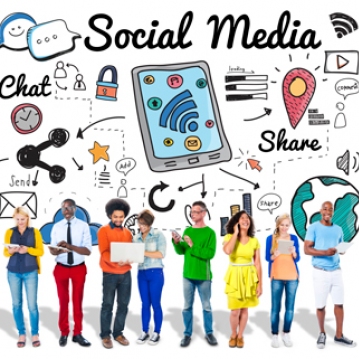 As a child in the 1960s, I watched many episodes of "The Twilight Zone." I was both frightened and intrigued – wanting to watch more and fearing it something fierce. The thrill of seeing a man hanging on the wing of a plane, or the postsurgical unwrapping of the gauze on the face of a woman who's just undergone reconstructive surgery… if you watched, you remember these scenes. They stick with you forever. Chilling, exciting and scary, all at the same time.
The Twilight Zone of Social Media, our cover story this month, is fraught with the same duality and struggle. It can elicit everything from expletives to excitement. Let's look at both sides of this welldeveloped genre of communication and see if we've birthed a monster, or a makeshift way to reconnect, in a world that is growing bigger every day.
Facebook brings a lot of positives to people today. It offers an opportunity to reconnect with old school friends, children and grandchildren, and it allows us to share our feelings, opinions, travel logs, conquests and struggles. Social media has become a link to those we care about, those who are far away, and those we may like based on what they believe, what they create and what they enjoy in their lives.
There are the downsides of Facebook too. Narcissism prevails, cyberterrorism, the public being duped, sponsored pages that populate your feed, the crosspollination of families searches, use and abuse for dopamine highs, unwittingly exposing information that creates breaches in personal data… there is a long list of the downsides of social media.
ProCon.com has examined both sides of the issue and offers interesting statistics on their website:
"Around seven out of 10 Americans (69%) use social networking sites such as Facebook, Instagram, Twitter, LinkedIn and Pinterest as of 2018, up from 26% in 2008."
Social media sites are one of the fastest growing sources for news, although the inherent problem is that fake news spreads on these sites too. Be sure to use discernment and check your sources. Many criminals have been found on social media sites, making it helpful to law enforcement officials. On the flip side, users are now feeling burned by cyberexposure, and mounting concerns have seen many enthusiastic Facebook friends drop off, or disappear intentionally because of all the negative press.
Tom Bissell recently wrote a review for "The New York Times" about Roger McNamee's new book, "Zucked: Waking Up to the Facebook Catastrophe." In it Bissell says, "Considering the high likelihood that Russian activity on Facebook may have tipped the 2016 election to Donald Trump, the damage is already of generational measure." Wow, we're in new territory, and as Bissell further alludes in his review, we're in Orwellian times too. George Orwell wrote, and knew that, ´´To see what is in front of one´s nose needs a constant struggle.'´
Much of life is a struggle and yet, there are times where we can feel balanced and peaceful. Determine what you need to feel okay in the social media realm. Listen to your inner wisdom. If your screen time is increasing each week, you may want to make modifications or look at what other social activities you can engage in to feel connected.
Be mindful and alert to what is happening. Seek to sort out truth from fiction, and make the best of what social media offers for you, your friends and family – because we all know feeling connected to the ones we love feels really good.