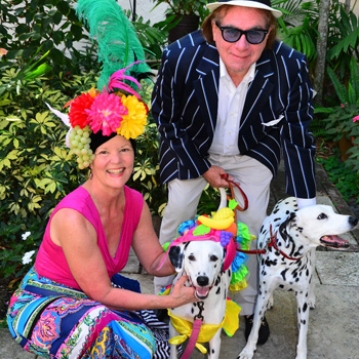 Most of the United States has battened down under the polar vortex, freezing temperatures, blanketed with snow. We Floridians are basking in balmy breezes, blue skies and plenty of sunshine. It's that time of year for green markets, outdoor art shows and dog events. Outdoor events are usually dog-friendly, but it's always best to check before heading out with your pooch.
The morning of Saturday, March 9, 2019 marks the 26th Annual Worth Avenue Pet Parade spearheaded by Mistress of Ceremonies Sherry Frankel and her dashingly handsome standard poodle, Dash.
Beginning at 9 a.m., held in Via Amore on world famous Worth Avenue, count on dogs of every size, shape and color, a couple cats, and just maybe a pig, a pony or even a bunny. I love seeing the loving commitment shared between pets and their humans. Amazing to witness the creativity in costumes and presentations. Some entries are elaborately themed, taking months of planning, building, sewing and execution. The owners also dress for the occasion. Lucky pets ride in style on their own themed vehicles. Best of all, many of the contestants have true rags to riches stories, from skinny streetwise strays to leading lives of luxury in the Palm Beaches and beyond. Some even enjoy summer homes and extensive travel itineraries.
Worth Ave Pet Parade info: Sherry 561/655-1996 or faith@worth-avenue.com.
That same afternoon will be the first Pups on the Plaza, just south in Manalapan, presented by Illustrated Properties. Referred to as "The After- Party for the Worth Avenue Pet Parade," the event runs 3-6 p.m. General admission is free. Advance VIP admission* ($15/pp) includes a swag bag, opportunity to strut on stage and compete for prizes, and specials in the Plaza. Also scheduled are fun photo ops, vendors and exhibitors, a lucky ticket auction*, live entertainment, and more.
*Proceeds will benefit local rescues including Pet Haven Rescue and The Pet Cottage, along with Lantana beautification efforts. RSVP: Eventbrite and Facebook: Pups on the Plaza Info: Illustrated Properties/ CJ, Sally or Stacy at 561/582-5338.
I enjoy photographing all pets:
naturally naked, gorgeously groomed and divinely decked out.
As with any dog event, for the safety and enjoyment of all people and pets:
Well behaved dogs are welcome - on standard 4-6 foot leads No retractable or flexi leads No pups under four months old No females in season BYOB** you MUST be totally responsible for your pet **bring your own bags

Additionally: Especially important for kids - always ask the handler/ owner: "May I meet your dog"?
Present your hand - palm down, fingers protecting tucked-in thumb to the dog's nose.
Avoid overhead-petting a dog you just met. A chin scratch or side pet is usually welcome.
NEVER put your face in a dog's face (especially one you just met).
I am picky about not letting dogs have anything with corn, wheat, soy or by-products.
Bring your own dog bowl and bottled water, to prevent picking anything up.
Be attentive to your dog overheating. Put your palm to the ground and make sure the surface isn't too hot.
If you're freezing up north, look for my videos on Facebook and Periscope for a dose of Florida sunshine and dog fun. Local? See you at the dog events. Get ready for your closeup. I'll be the one with the squeaker and big camera. Go ahead and bask!