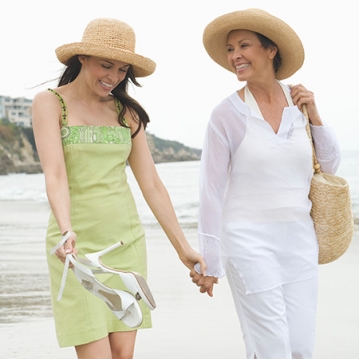 Do we ever stop wondering if we are doing it right? For the last 52 years I have relied on my mother to answer that question. Now she's gone. At the end of the day, I suppose we are all meant to be our own final judge, jury, guru and muse.
I've actually been missing my mom for much longer than the day she died five months ago. She was stuck in a cycle of grief, pain and depression for quite some time. The strong, fiercely independent visionary that raised me left me years ago. A light inside of my mighty mother had gone out and she could not seem to find her way back to herself. So, as kids do, I made it about me. Why can't we talk honestly about X,Y, Z? Why can't I rely on you for this or that? I want my Mommy!
Over the last decade or so, I vacillated between anger and disappointment. Never did compassion enter the fray. Until I called my friend to vent and she stopped me in my tracks. "Listen, you can try to engage your mom on your level and she may come around, or, more likely, it will come between you. Your mom cannot become what you want her to be, and you can either accept it and enjoy the time you have left with her, or you can make it really uncomfortable." She said I could always find what I'm looking for elsewhere and dared suggest that it may not be my mother's issue, but mine. How dare she make me look in the mirror like that?! Later that day in a bookstore, Eleanor Roosevelt's book "You Learn by Living" jumped out at me. I snapped a photo of the cover and sent it to my sage friend with the caption: Ok, I'll hang with my mom, and Eleanor Roosevelt can be my mother.
Perhaps it was the loss of her mother 30 years ago that set in motion an unfulfilled seeking for answers, affirmations and guidance that left my mom feeling so lost. We all crave the support of the one other human being in this world to whom we were literally connected for nine months. Who is your mother if not your biggest fan?! Regardless of how they show it: Whether critical, loving, wise, enabling, gentle, harsh, dysfunctional or completely awesome… our moms have definitely done their best from a place of pure love. And when that's missing, we feel untethered and may get lost.
As I deal with the reality that I will never again hear my mom's voice, never call her at random when something funny happens or when I need to be told I'm amazing, I am finding my way back to her true spirit. Sifting through old photos, I saw the two of us when I was about three and she was 28. The photo held my gaze. I looked into her eyes and felt the woman I'd been missing all these years. I felt who she was when she knew who she was. For me she was mom. My Super Mom. A wave of gratitude and compassion washed over me. I forgave her for leaving us, especially my dad, five months ago. Yes, I've been angry that she did, as if she had a choice. But, you know, grief knows no rules.
I cannot seek her advice, or ask her if I'm doing it right. It's time to finally trust the voice within — to connect with the higher consciousness of which my dear mother is now a part, but which we also share. I'm blessed with the memory of my mom being the most authentic version of herself when I was little and needed her most. Or maybe not. Maybe she felt most alive when she was five. But one thing I know for sure is we are on the same journey. Separately, but together. Namaste, Mom.