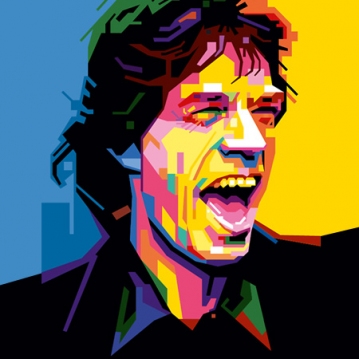 I just cannot imagine what it was like for Mick Jagger to come to the conclusion that he and The Rolling Stones would have to postpone their upcoming "No Filter Tour" of the U.S. and Canada. Or can I? We probably have all had moments in our lives where the momentum that was leading us forward — where our energy was primed and our hearts and souls were invested in achieving our goal — was thwarted by something, something so big, that it makes us do a 180 degree turn.
It happened to me this winter.
The flu grew — and became pneumonia in three days flat. I was flat on my back and every ounce of my energy was zapped. I could not move, much less breathe or talk, and I was only a week away from a long planned visit from a far away friend. I couldn't reconcile that I was in no shape to entertain or host her, and debated internally for days before finally realizing — there was no place to go, nothing to do but postpone.
So let it be known that Mick Jagger and The Rolling Stones were to kick off in Miami at the Hard Rock Stadium, originally on April 20, 2019, but ticket holders are being told to hold on to their tickets. Maybe by the time you read this, you'll have more details. But suffice it to say, the old adage, the show must go on — goes on most of the time, but not always.
Now this brings us to those moments in life where we have to change our plans, flow like water and bend like an arrow. Flexibility is the key here, and learning how and when to check in with our logic and reason is vital. When emotions dictate, that can lead to grasping and holding on — so be wise and be well.
Mick Jagger Quotes
1. You can't always get what you want, but if you try sometimes, you might find, you get what you need.
2. The past is a great place and I don't want to erase it or to regret it, but I don't want to be its prisoner either.
3. Lose your dreams and you might lose your mind.
4. I don't think enjoying life is an exclusive prerogative of young people.
5. One song isn't going to ever change things, but I suppose it's the accumulation of music generally [that is]. If you can imagine a world that has no music in it, it would be a very different world, so music does change the world by virtue of all the music in it. Cumulative music of every kind, from banging a drum to playing a flute or recording symphonies, or singing 'War, what is it good for?' All those things change the whole way we live.
As for the Rolling Stones and Mick Jagger, there are a half-century of stories and pictures and songs and concerts and memories and joys and exuberance and more. Mere words printed on this newspaper cannot capture or even hint at the essence of what this life force of the rock and roll era produced.
Some basics tell us that The Rolling Stones formed in London in 1962. Originally they were playing other artists' music, but once inspired by The Beatles, Keith Richards and Mick Jagger became a songwriting team and launched "(I Can't Get No) Satisfaction" in 1965, and in 1966, they added "Paint It Black," "19th Nervous Breakdown," "Lady Jane" and numerous more hits. It's been more than 50 years, and even though band members have come and gone, relatively few given their longevity, they are still filling up stadiums around the globe with their original music.
What was your Rolling Stones experience? How did they make you feel? Do you have a favorite song? It's always fun to reflect on bygone eras and to appreciate the staying power of others. The Stones rock it!
To Mick Jagger and The Rolling Stones — May Health and Happiness be abundant, and may the "No Filter Tour" receive a warm welcome in Miami!
And to You, the reader of this article, either in reflection or in this very moment… may May be filled with Satisfaction for you and your loved ones each and every day! :) Liz