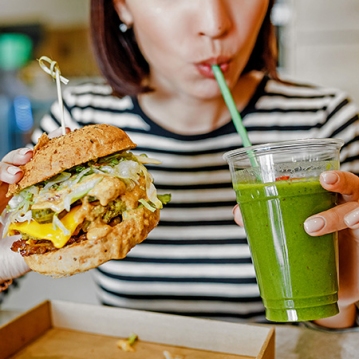 South Florida is really becoming a hot spot for the vegan lifestyle. Between the endless meetups and events, VegFests and dining experiences, not only is it easy to be vegan - it's a joy! Here is my list of must-visit spots in Palm Beach and Broward Counties:
Blondie's Vegan Bakery and Cafe - 870 N. Congress Ave., Suite #110 Boynton Beach, FL 33426 - BlondiesVegan.com - 100% plant-based, gluten-free and allergy friendly. They boast an enticing array of pastries, intricately decorated custom cakes, desserts, coffee bar, and gourmet sandwiches.
Veg Eats - 335 E. Linton Blvd., Delray Beach, FL 33483 - VegEatsFoods.com - Veg Eats is new on the scene, and offers decadent and heavenly 100% plant-based comfort food. Enjoy hearty sandwiches, quiche, flavorful soups, burgers and sinful desserts. They also have a Sunday-only brunch menu.
The New Vegan - 528 N.E. 2nd Street, Delray Beach, FL 33483 - TheNewVegan.com - Family owned, all organic, non-GMO, gluten and soy free and 100% plant-based. Enjoy "Fried Chick'n", mac n' "cheeze", homemade burger patties, smoothies and juices, loaded salads and amazing desserts. You will feel the love in every bite!
Darbster Bistro - 8020 South Dixie Highway, West Palm Beach, FL 33405 - darbster.com - Offers Neo-American, plant-based fare, both cooked and raw options. They also offer daily specials, a weekend brunch menu and an impressive array of both raw and cooked desserts.
Christopher's Kitchen - 4783 PGA Blvd., Palm Beach Gardens, FL 33418 - christopherskitchenfl. com - Offers both raw and cooked options, from hearth-baked gourmet pizzas to an array of sushi. You can't go wrong with anything on the menu. Note: A few smoothies and dessert items contain honey, so vegans should be observant of details.
Screaming Carrots - 826 W. Hallandale Beach Blvd. (NW 8th Ave) Hallandale Beach, FL 33009 - ScreamingCarrots.com - Screaming Carrots has one of the most extensive and delightful menus I have encountered. A unique combination of Mediterranean and Thai dishes. This is truly one of the best restaurants in the region!
Clovermint Cafe - 3433 Griffin Rd. Dania Beach, FL 33328 - clovermintcafe.com – Clovermint offers comfort food to warm the stomach and fill the heart. If you are in the mood for burgers, fries, subs and filling bowls, this is the place for you. Lighter fare is available as well.
Zen Mystery - 56 N. Federal Hwy., Dania Beach, FL 33004 - zenmystery.com - Zen Mystery offers delicious, healthy, organic fare, and hosts an array of cultural events that are geared towards the arts and humanities as well as spiritual focuses.
Utopia Juice Bar - 1432 S. Powerline Rd., Pompano Beach, FL 33069 - utopiajuicebar.com - The food here is raw, edible art. 100% plantbased. Ask Chef Jonny to make something special - you won't be disappointed!
Queen of Sheeba - 716 N Sapodilla Ave,, West Palm Beach, FL 33401 - QueenOfSheebawpb.com - Family-owned, exquisitely crafted traditional Ethiopian fare. Not exclusively vegan, but they offer a large vegan section on their menu.
Bon Appetit!