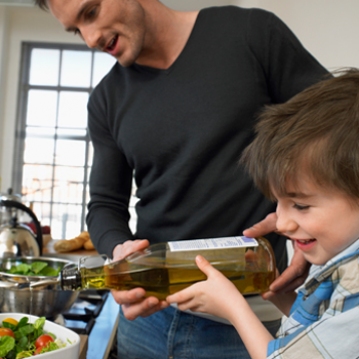 Okay, so the title was an attention-grabber, I'll admit eating healthier meals won't necessarily make you sexier. But that's because most of you are as sexy as possible already. Still, eating a healthy diet packed with plants, fiber and nutrition is great for your health. So I'm issuing a challenge to you for June: Eat healthy meals every day.
Healthy eating is not about strict dietary limitations, staying unrealistically thin, or depriving yourself of the foods you love. Rather, it's about feeling great, having more energy, improving your health, and boosting your mood. If you feel overwhelmed by all the conflicting nutrition and diet advice out there, you're not alone. It seems for every expert who tells you a certain food is good for you, you'll find another saying exactly the opposite. But by using simple tips, you can cut through the confusion and learn how to create – and stick to – a tasty, varied and nutritious diet that is as good for your mind as it is for your body.
Eating a healthy diet doesn't have to be complicated. While some specific foods or nutrients have been shown to have a beneficial effect on mood, it's your overall dietary pattern that is most important. The cornerstone of a healthy diet should be to replace processed food with real food whenever possible. Eating food that is as close as possible to the way nature made it can make a huge difference to the way you think, look and feel.
June Challenge: Eat Healthy Meals to Get Sexier
"I really regret eating healthy today"
– said no one ever.
What does that mean? The first week, I challenge you to eat a hearty salad for lunch. Then each week after that, add a healthy meal to your day, or clean up the junk in some part of your diet. I'm already eating healthy myself and would love for you to join me. It's not just for those who want to lose weight, but also for anybody who wants to get leaner, gain muscle, or just have radiant health.
It's my belief that radiant health comes from:
• A healthy diet full of vegetables, fruits and other fiber-filled, nutritious foods

• Good sleep
• Regular exercise (strength, yoga, and some kind of walk/run/bike/ sports activity)
• Being smoke-free
• Relationships/community

• Some kind of purpose in life

• Mindfulness and stress coping mechanisms

Not in that order, as they're all pretty important. But if you can develop these, you'll be living a radiantly healthy life. Of these, probably the areas that would have the biggest impact for most people would be sleep, diet and quitting smoking (if applicable). I'd like you to pick diet as your focus for June, unless you strongly need to focus on your sleep right now.
So I'm issuing the Eat Healthy Meals Challenge!
Here's the challenge:
1. First week: Focus on eating a hearty salad for lunch every day (or some other veggie-filled simple meal).
2. Second week: Focus on eating a healthy, fiber-filled breakfast (while also eating the salad for lunch).
3. Third week: Focus on eating a healthy dinner, while also continuing to eat the other two improved meals every day.
4. Fourth week: Strengthen areas that need to be strengthened – changing your accountability or environment (if needed) to be more consistent, getting rid of unhealthy drinks or snacks, etc.
Try to prepare food one or both weekend days or on a weekday evening, and make extra to set aside for another night. Making food ahead saves time and money, and it is gratifying to know you have a homecooked meal ready to eat.