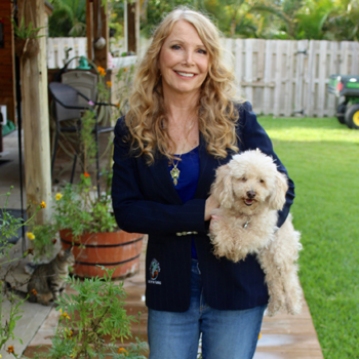 For 40 years now, I have been aiding animals, investigating, organizing, activating, educating and writing, and there is still more work to do.
When you have been vegan since the mid-1980s and you're approaching 60, quickly, it's a very good time to think of a vegan 60 as the new 40 – can I get any agreement here?
Lovey, the apple of my eye, rescued poodley dog agrees with me. She will be 16-years-old – that's 112 in dog years. I am not sure what the exact date of her birthday is – I adopted her when she may have been six years old from Palm Beach County Animal Control. I like to tell her she was dropped off by the fairies.
So both of us vegans will celebrate our birthdays together; can you say vegan birthday cake?
Birthday milestones for me are times to reevaluate: What needs to happen to help more animals, to be more effective? I end up listing a set of resolves… does anyone else do this?
Here are my 60th Birthday Resolutions (which are for any age, really.)
1. Speak up, directly and more.
1. Now if you talk to my family they will say I don't have a problem with this, and they may even wish I were more reticent. However, like many women, I try to ensure everyone is okay, at the expense, sometimes, of the goals I need to reach for – in this case, I am thinking of the Animal Hero Kids Education Center and documentary mission.
2. Dance more.
I love to dance, mainly to funk, old Beatles tunes, and rhythm and blues. It's something I have gotten out of the habit of, in this age of iPods and the like. Dancing is so good for your energy levels, and it is also really good for working off the next resolution.
3. Eat Gobs of vegan birthday cake with English tea.

Today there are so many cake choices which are vegan, whether they are recipes or in stores, bakeries and restaurants. Having been vegan since 1985, and being more of a cook than a baker, I went for a very long time without cake. Now, vegan cakes and desserts are everywhere!
4. Increase free vegan fare activities in Animal Hero Kids school programs.

The tastier, more scrumptious and recognizable a vegan comfort food is the better. More foster group home teens about to age out of the system will be receiving free shopping tips and vegan fare activities from us this year.
If you wish to join us at AnimalHeroKids.org please contact us via our website. We are an all volunteer organization, and need volunteers to sew, create art, take photos, edit social media videos, and staff tables at events. If you have any ideas or resources to help Animal Hero Kids open our own Kindness Education Center, or if you have an in with Bill Gates, call us, quickly!