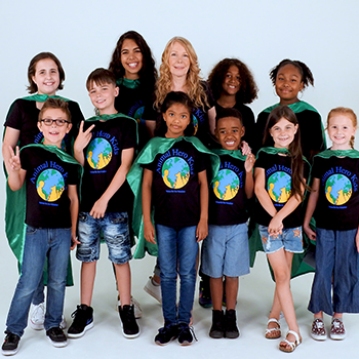 It stands to reason that Mother Nature, Animal Hero Kids storytelling character, would choose to land in a vegan restaurant in London called Karamel to nosh on nature's bounty, and it also stands to reason her purpose for being there was to surprise a true friend of other animals.
Aiyana Goodfellow, a young teen, was at her part-time job on Saturday, July 20, making vegan milkshakes for the crew of visiting animal hero kids, when what she thought was a Mother Nature program for younger children, with happy ending animal rescue stories from the "Animal Hero Kids Voices for the Voiceless" book, became something unexpected.
Aiyana was surprised to receive the Animal Hero Kids Paul McCartney Young Veg Advocate Award, plus a fabulous Paul McCartney photography book, and a vinyl collector's edition of "Egypt Station."
Aiyana speaks up and sings up for other animals not to be harmed at every opportunity, and began her activism at 11 years of age. She gave advice to the younger activists present about how to be more effective. Aiyana will be a panel guest at the November 2, 2019 Animal Hero Kids Youth Summit and Celebration in Deerfield Beach. Contact us at AnimalHerokids.org to join us.
I am happy to conclude with a message from the icon Paul McCartney himself: ''Animal Hero Kids Rock! The good news is no matter how old we are, we can all help animals in need."